One of the drawbacks of last summer's move was moving further away from my husband's family.  Being a plane-ride away from my own family, and being blessed with such wonderful in-laws, it was definitely  a draw-back to move an additional half-hour away.  However, I think we have seen them more this winter than last and it has been wonderful!
With projects to do around both of our houses, my husband declared every other Saturday as "family work day."  We spend one Saturday a month together at our house, and one Saturday a month together at theirs.  Father and son use the time to help each other with projects around the house (and for that I am so thankful) and we women have been making our way through our piles of crafty projects!
There is something really special about the time women spend together creating.  I love hearing the sound of knitting needles clacking, of sewing machines humming, and I have certainly benefited from my mother-in-law's help and wisdom.  Sometimes we chat, sometimes we listen to music, sometimes we watch movies, and other times we just sit in the quiet, absorbed in our projects.  And there is something in me that thinks "this is the way life is supposed to be."
Now that my sweater is complete, I have moved on to spending those Saturdays working through some of my sewing UFOs.  And with that purpose in mind I rediscovered, and finished, this quilt.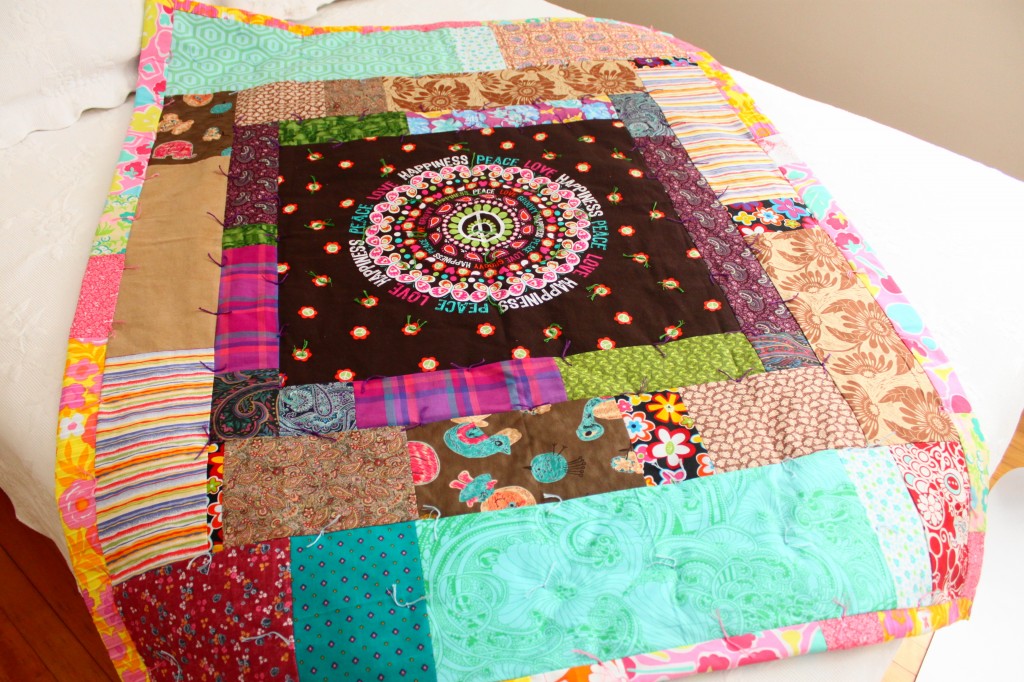 And although I do love the front, it is the back that I am particularly enamoured with.
Isn't it awesome?  And it is just as soft and smooth and satiny as it looks.  This was a true treasure out of my grandmother's fabric collection, and along with many of the fabrics I used for the top, probably purchased 40 – 50 years ago.  Sometimes I like to imagine what my grandmother had intended with her purchases.  This is a wildly beautiful print!  But I am kind of glad she never worked it into one of her own sewing projects, because it looks right at home here on this quilt.
So this is how I have been spending the cold winter days (which stubbornly refuse to turn into spring.)  Quilting.  Sewing.  Knitting.  Thinking about my grandmother.  Creating quilts and sweaters and memories woven together.
Do you craft together with others?  What are your favourite winter-day projects?