I'm continuing to cook my way through The Food Matters Cookbook and discovering lots of great new recipes!  This one caught my eye as I love both potatoes and leeks, but I was a little sceptical of a gratin that had absolutely no milk ingredients, other than the butter in the breadcrumbs (which is easily replaced if you are dairy sensitive.)
The author promised that the dairy would not be missed.  My hubby, who is starting to get used to the fact that I am now trying new recipes almost all the time, will insist that I take pictures before we eat, and am always looking for feedback, immediately said  "I love this cheezy potato stuff!"  Well Mark Bittman, you were right.  The cream was not missed and the veggies so tender that somehow it tasted like there MUST be something else in there with them.  Another to add to our family cookbook.
It's a rarity around here, but this is a recipe I did not alter in any way, and don't plan to.  It's that good.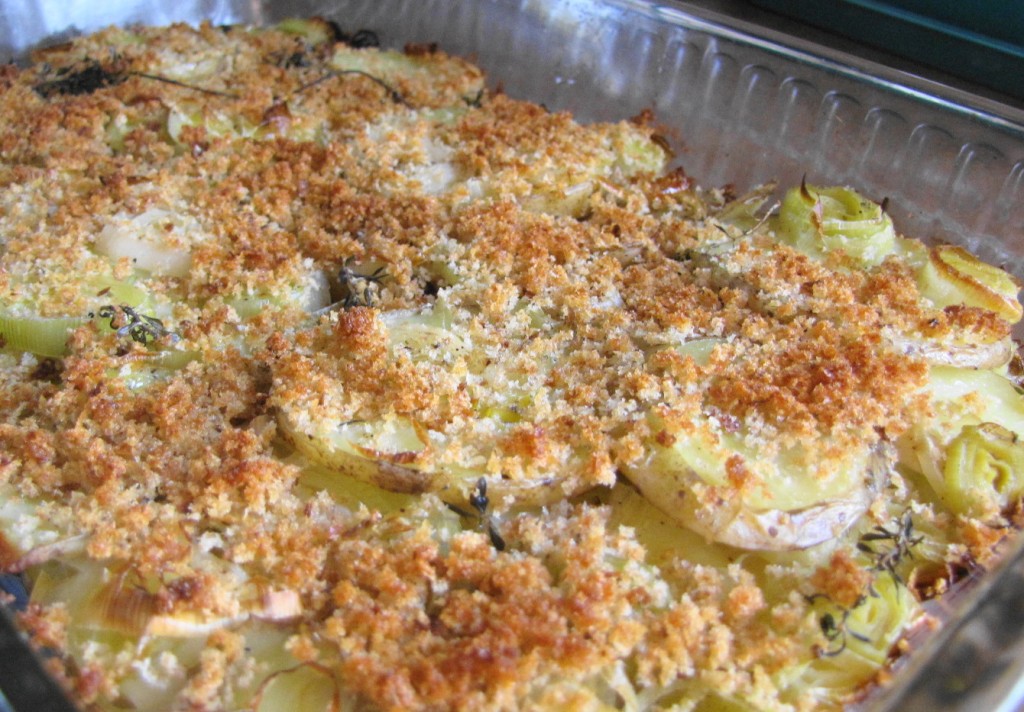 Potato-Leek Gratin with Buttery Bread Crumbs  from The Food Matters Cookbook by Mark Bittman
1 1/2 pounds potatoes, sliced
1 pound leeks, trimmed, rinsed and sliced thin
1/4 cup olive oil
salt and pepper
4 sprigs fresh thyme, or several pinches dried
1 cup fresh bread crumbs (throw a slice or two of bread in a food processor or blender)
2 tbsp butter, melted (substitute with an oil of your choice for a dairy-free version)
Set oven to 375.  Lay potatoes and leeks in a 9 x 13 pan and toss with olive oil, salt, pepper, and thyme.  Cover the dish with foil and bake for 30 – 40 minutes, or until the veggies are very tender.  Top with bread crumbs and put in 425 oven, uncovered, for about 15 – 20 minutes, or until veggies and topping are nice and brown.
Enjoy!
Only one more week (and several recipes to go!) until I post my review.  This was a big book to take on, but not as daunting as it first seemed, as you'll find out on review day.
Have you tried any great new recipes lately?
Read More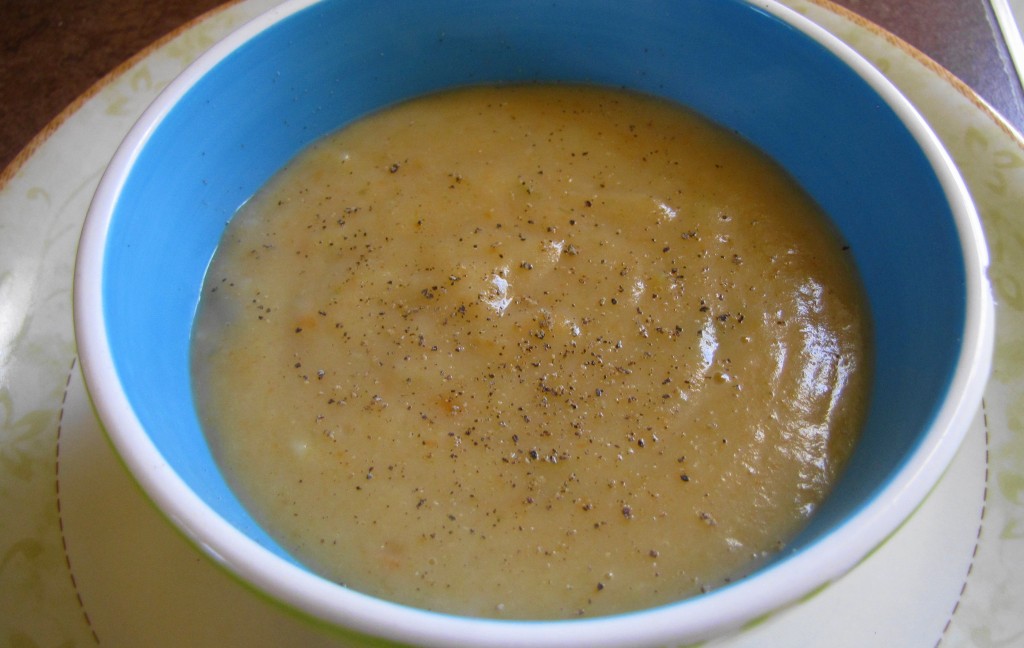 On a cold frosty day, nothing warms me up like a big bowl of thick, stick-to-your-ribs soup.  And of the many thick and creamy soups that I make, Potato Leek is a favourite around here.
The first time I had potato leek soup I must admit that I was not a huge fan.  When I was a teen, I spent my summers working at a Girl Guide camp.  Because all of the staff were busy all day working with the kids, we were lucky enough to have our own cook who prepared our lunch and dinner.  She was fabulous and we all loved her.  One of her specialties was potato leek soup.  At the time I didn't appreciate it (I had a thing about onions when I was younger), but later was introduced to the soup again (at my own wedding of all places!) and fell in love with it.  SInce then I have made it often.
A friend from camp recently asked if I had that original potato leek soup recipe.  Although I don't, I just happened to be trying out a new soup recipe this week, and since it was amazing, I thought I would share it here, for her, and all other potato leek soup fans!
Potato Leek Soup
(slightly adapted from The Enchanted Broccoli Forest by Molle Katzen)
3 potatoes, peeled and chopped
3 large leeks, cleaned and chopped  (discard dark green tops)
1 celery stalk, chopped
1 large carrot, chopped
3 cups stock (vegetable or chicken)
1 cup water
1 tsp salt
1 cup milk
freshly ground pepper
Place all ingredients (except for the milk and pepper) in a large pot and bring to a boil.  Cover with a lid, reduce heat, and simmer for about 20 minutes, or until the potatoes are tender.
Remove the soup from the stove and let cool for a few minutes.  (If you like making meals ahead of time, this is a good spot to put the soup in the fridge, ready to pull out for a busy weekday dinner)
Purée the soup in a food processor, blender, or with an immersion blender (I find I don't get it perfectly smooth with the immersion blender, but I'm ok with that.)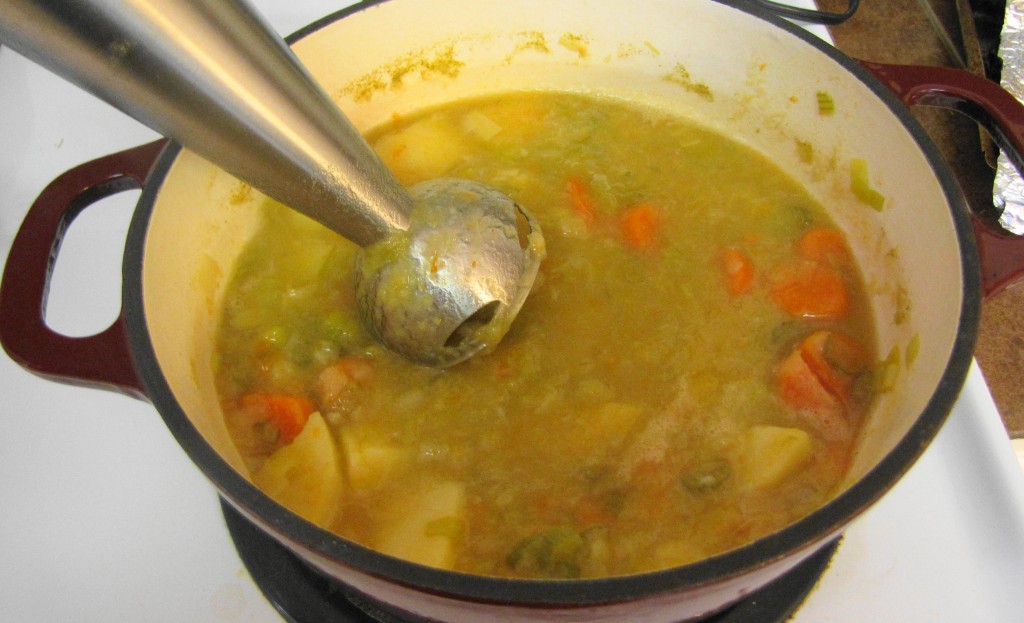 Stir in milk.  Add pepper, to taste.
Although Molly suggests that this soup can be eaten cold, I much prefer mine hot!
Enjoy!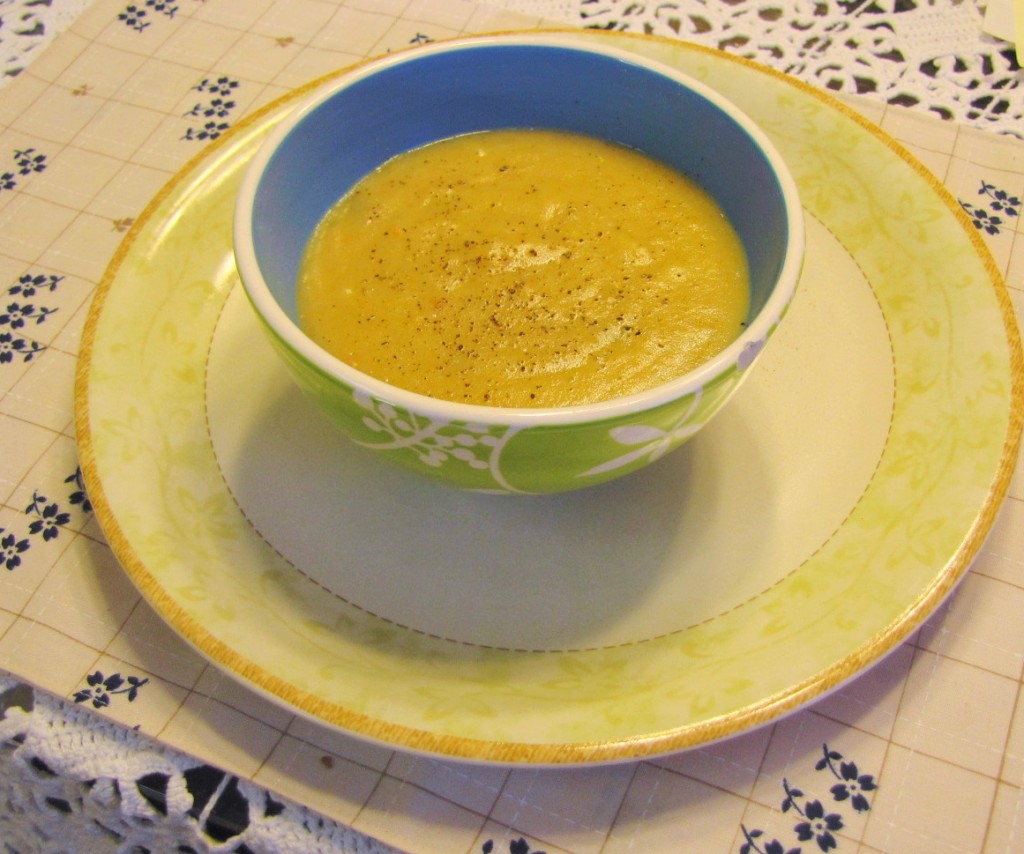 Read More