I LOVE these cookies. I love what they don't have in them (no oils, no refined sugar, no dairy, wheat) and I love what they do have in them (oats and spelt and honey and peanut butter), but most of all I just love them because they taste good. And Hubby gives them the thumbs up too, which is saying a lot for a generally healthy cookie.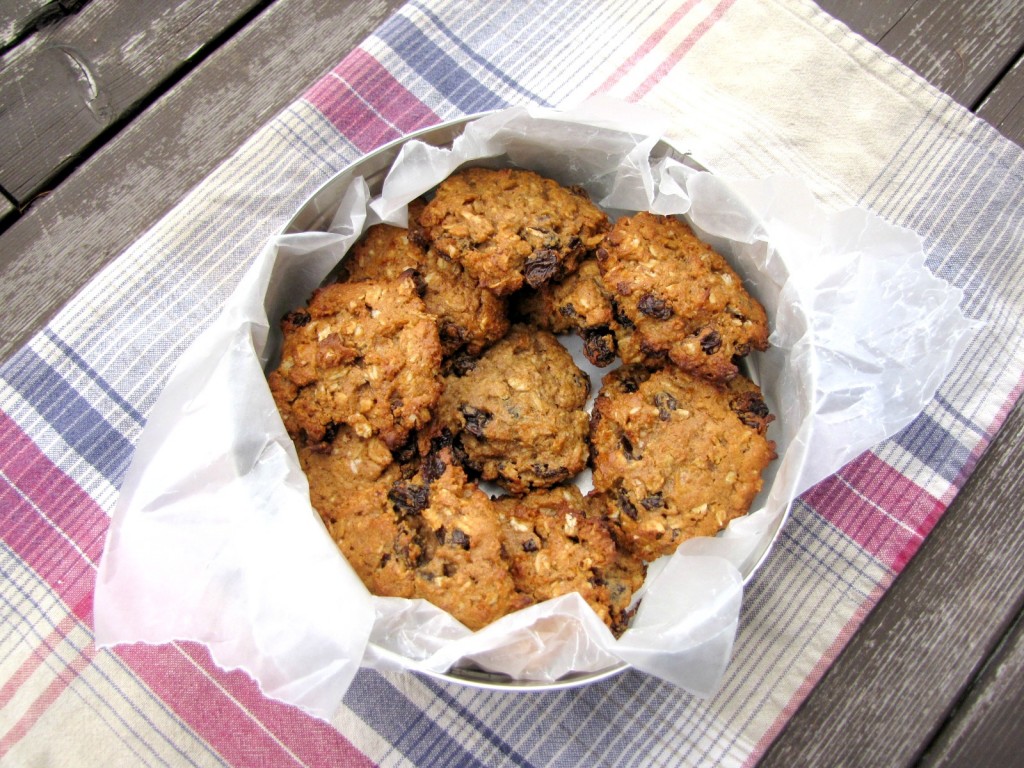 They are based on this recipe, but adapted to exclude wheat and dairy.   The original recipe calls them "breakfast cookies" but I think they make a yummy dessert or snack too.  And change up the nut butter, the dried fruit, and the liquid and the possible variations are endless! (How about cashew apple raisin?  Or almond orange cranberry?)
Peanut Butter Banana Oatmeal Cookies
1/2 cup mashed banana
1/2 cup natural peanut butter (or other nut butter)
1/2 cup honey
1 tsp vanilla
1  tbsp almond milk (or other liquid)
1 cup rolled oats
1/2 cup spelt flour (or other flour)
2 tsp cinnamon
1/4 tsp baking soda
1 cup raisins (or other dried fruit)
Combine the banana, peanut butter, honey, vanilla, and almond milk until smooth.  In a small bowl, stir together oats, flour, cinnamon and baking soda and then combine with the peanut butter banana mixture.  Fold in raisins.
Drop spoonfuls onto greased or parchment-lined pans, and flatten with a wet spatula.  Bake at 350 degrees for about 15 minutes, or until lightly browned.  Cool on wire racks.
Enjoy!
Read More
I was lucky enough to enjoy two Christmas dinners this year with all of the trimmings.  One with my husband's family on Christmas day, and one with all of my family on New Years Day.
In my family, Christmas is the one time of year when there is not a bit of room in the fridge, and the fridge in the basement gets stuffed full too.  Dinner is always a feast, with lots of leftovers (which we like to call "encore presentations.")
There are a few creative cooks in my family, and we enjoyed many variations on the theme, with lots of creative dishes featuring key ingredients found in various containers in the fridge. 
But there were still sweet potatoes left over.  I thought of making muffins, but we already had sweet potato bannock as well as several other types of bread.  I thought of making some type of fritter with them (maybe with some finely diced apple and cinnamon?), but as I had just made a batch of fritters with the white potatoes, it seemed like something else would be better suited.  (although I kind of like the idea of an apple/sweet potato fritter and might still try it sometime….)  In the end, I went looking for a recipe for Sweet Potato cookies, as with several cookie monsters in the house, our Christmas cookie selection was quickly dwindling.
I found a recipe, made a few changes (of course) and yum!  We had some beautiful, moist, cookies.  I especially enjoyed them warm for the oven, but they kept well in a cookie tin for a few days (and the sweet potato flavour intensified as they aged.)
Sweet Potato Cookies
based on this recipe
1 cup cooked, mashed, sweet potato

1/4 cup milk

1 egg

1/4 cup melted butter

1 1/4 cup whole wheat flour

2 1/2 teaspoons baking powder

1/2 cup brown sugar

1/2 tsp salt

1 tsp cinnamon

1/4 tsp allspice

1/4 tsp grated nutmeg

1/2 cup raisins

1/4 cup chopped pecans
Turn oven to 375.  Mix potato, milk, butter and egg and beat until smooth.  Stir in remaining ingredients.
Drop by spoonfuls onto a greased cookie sheet (or cook on a non-stick mat).  Bake for 15 minutes. 
Enjoy!
Read More