I absolutely love wool felt.
Actually, I really love anything wool.  One of my favourite things in this world is wool sweaters, quickly followed by wool socks.
If you have never worked with wool felt, you are missing out.  It is nothing at all like its cheap acrylic cousin found in discount stores.
It's soft, yet strong.  Cuts like a dream.  It wears well and doesn't pull and pill.
It's pricey compared to acrylic felt, but the extra cost is worth it.  If I am going to put time and effort into making something, I want it to last and look good for years to come.
So when a friend asked me to make some felt masks for her son's first birthday party, I knew they would have to be made with wool!
Since the party was woodland themed, I went with a fox, bear, racoon, and deer.  I didn't have a pattern, but used lots of photos for inspiration.  Thank goodness for other sewists who share photos of their work!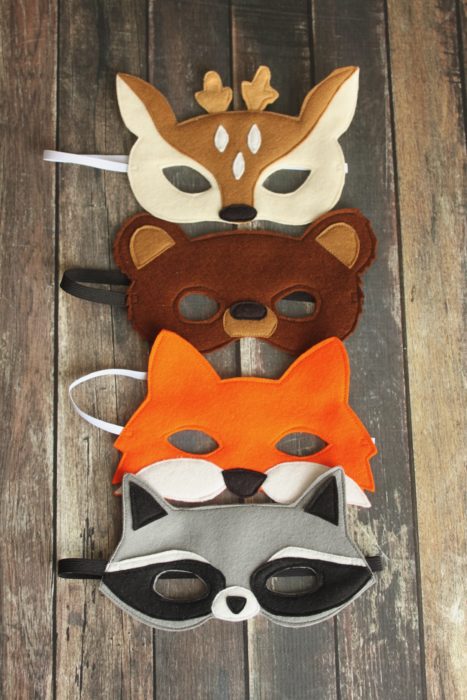 The masks are all double-layered for durability, with elastic sandwiched in between.  I did use a mask borrowed from my nieces in order to measure for the eye holes – I wanted to make sure the kids could see!
I am really happy with the way these turned out.  One of my teacher friends thought it would be fun to make a class set, using animals from a favourite book.  I think she is right!  They would be a lot stronger and last longer than the sets I made from paper when I taught Kindergarten.
What creative project have you been working on this week?