Who can resist a pair of warm and cozy flannel pajamas?
As you already know, my Christmas preparations included a fair amount of crafting and sewing, but this project was one of my favourites.
From the time my nephews were 3 years old, I have made them pajamas for Christmas.  But now that they have grown to an age where they no longer wear pajamas, it was time for this tradition to come to an end.  Looking back on old blog posts, I discovered some of the first PJs I ever made for my nephews. My sewing (and photography!) skills have come a long way since then.
Lucky for me, my two nieces are the perfect age for enjoying flannel PJs, so my pajama making days are not yet over!  I have to admit I really enjoyed going back to the very small sizes – they are so quick to make!
Cow Pajamas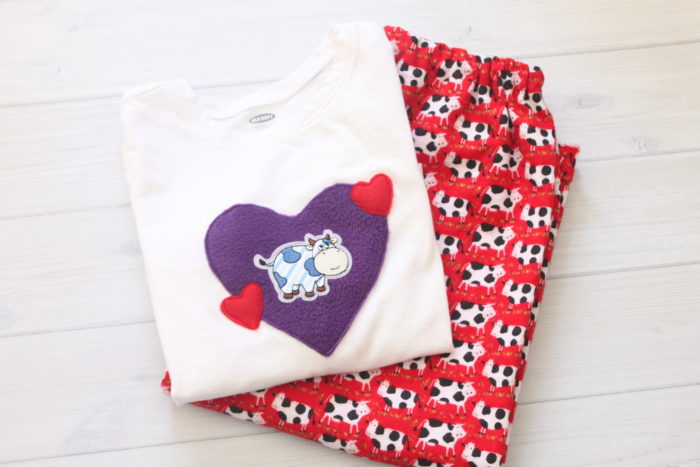 One of my nieces is in love with cows.  For her, I found a cute cow-printed flannel for the bottoms.  On top, I took a plain white t-shirt and appliquéd fleece hearts and an embroidered cow.
Kitty Pajamas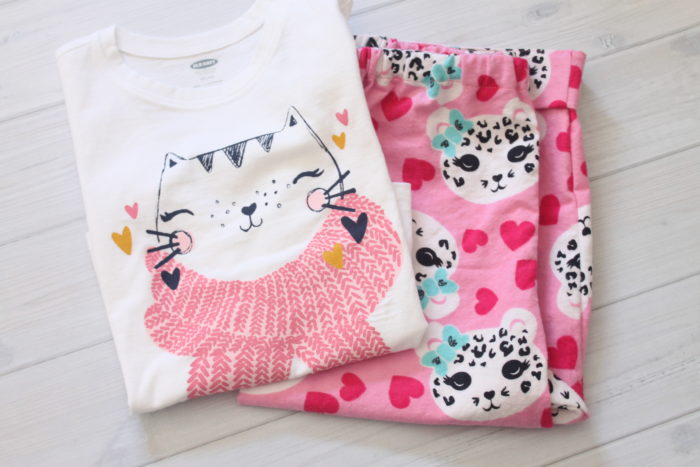 My other niece loves all kinds of cats, and tigers in particular.  Although I could not find tiger flannel, I thought this cat-print was cute.  White is her favourite colour, so I hoped she would enjoy white cats.  I did not do any appliqué for her, as Old Navy had this cute kitty shirt that seemed a perfect match.
Then, since my nieces love stuffies just as much as I do, I also made them each a new fuzzy friend.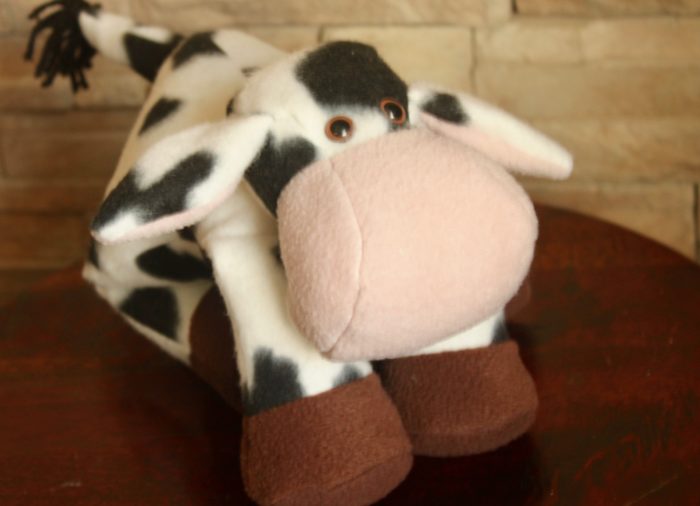 I used the cow stuffed animal pattern from Warm Fuzzies.  I love how cute and floppy this cow is!  The instructions were also easy to follow.  The only thing I don't like about this pattern is the way the head is attached.  It's hand-sewn on, and although I used a double row of stitching, I am not sure if it will hold up to being played with by an active 4-year-old.  Time will tell.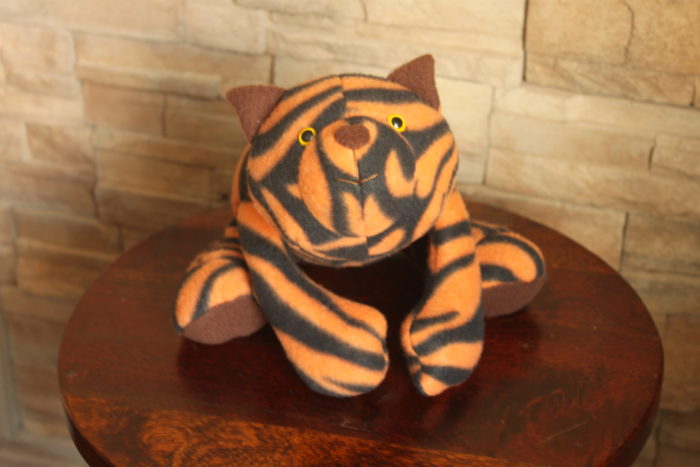 Since I couldn't have tiger PJs, I definitely wanted a tiger stuffie.  This is the Kitty Kate pattern from FunkyFriendsFactory.  I absolutely love all of Pauline's patterns, both for their design and their clear instructions.  Using a tiger-printed fleece, it looks like a little tiger cub.
It as so much fun to give these gifts!  My cow-loving niece in particular seemed instantly in love with her new toy and PJs.
What was your favourite handmade gift of the season?