After sewing up a set of Three Little Pigs puppets, I next set out to create puppets for The Princess and the Pea.
The Pattern
This cute sewing pattern also came from Such Designs.  Unfortunately, it is no longer in print.

The Process
I began cutting out all of the pattern pieces as drawn, but then decided that this time I wasn't going to follow the instructions exactly.  The 3 Little Pigs Puppets had a very simple design, and I wanted these to be similar.
I didn't make any changes to the princess puppet.  The design was simple and I liked her sleepy eyes and the tulle skirt.  I did make her hat, but didn't like the way it looked.  She still needed something, so I put a pink bow in her hair.
I greatly simplified the pattern for the rest of the family.  In particular, I used much simpler facial features.  Using the shape of the prince pattern, I cut out bases for the prince and the king.  I then added felt heads and hair and sewed on a sash.   Although the king was not featured in the pattern, he plays an important role in the version of the story I purchased.  I made him similar to the prince, but with grey hair and a crown.   Facial features are painted on, as this sort of hand embroidery has never been my strong suit.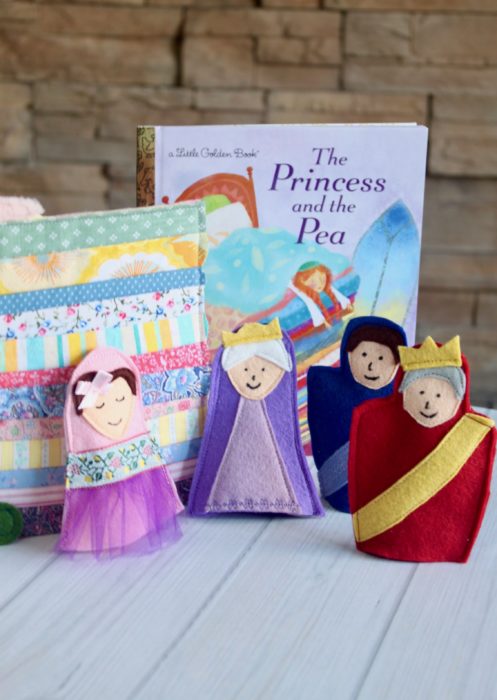 For the queen, I used the princess pattern as a base.  I then added felt head, hair and crown.  I also added a felt triangle to show the layers of her gown and had some fun with one of the fancy stitches on my sewing machine.
When it came to the big stack of mattresses, I decided to sew them in the same way as paper piecing or quilt-as-you-go.  This saved a lot of work in not needing to apply heat 'n bond to each individual mattress.  It also hid the raw edges on the long sides of each mattress.  I am happy with how it turned out!
The original pattern included a castle to hold all the puppets.  The castle was cute, but I wanted to be able to store the puppets and the book together.  Also, both the puppet sets were going to my nieces, and I knew they had to be somewhat similar.  Once again, I made a little bag with handles to store the book and puppets.

The Result
I am really happy with both sets of puppets.  The pattern itself is cute and the directions (even though I didn't follow them) were well written.  I own several other patterns from this designer and I am looking forward to trying more!