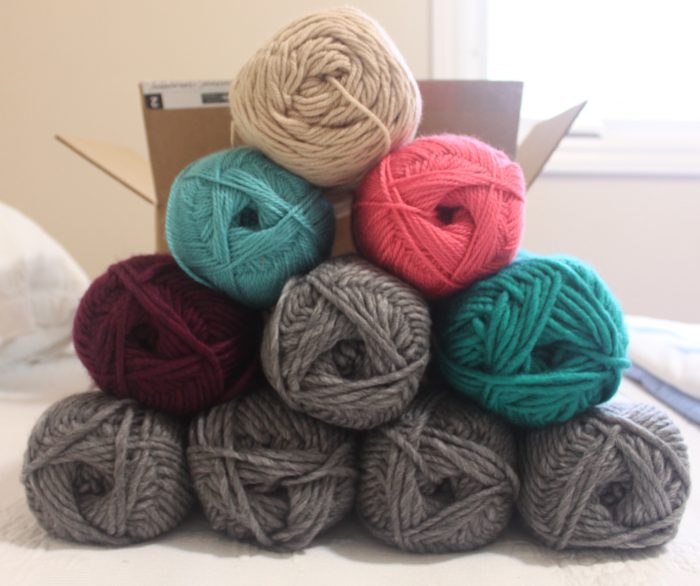 Last January, during a particularly snowy and icy drive home from work, something happened which would change my life for all of 2017.
I injured my right arm, from wrist to shoulder.
No, it's not what you think.  I was not involved in a car crash, although the conditions were ripe for such an event.
Instead, something about the hold of my shoulders as I tensed for each slip and slide, and the frenzied pace of my crocheting as I worked to finish a test of our newest pattern (obiovusly I was not the one driving), and something in my arm just stopped working.
I couldn't crochet.  I couldn't knit.  I couldn't even hold a pen to write.
For the next three months I learned to write with my left hand, type with my left hand, and do just about everything with one hand.  My writing is passable.  My cutting skills left handed leave much to be desired.
Which means I haven't been able to sew, either.
Slowly, things improved enough that I could write and type again, provided I didn't do too much and continued to use my left hand for the mouse.
Despite therapy and exercises, I went from crocheting at least two hours a day (my whole commute to work) to doing none at all.
It has taken 8 months to hold a hook in my hands again, and even at that only for a row or two a day.  A blanket that I might have completed in a week or two I have to content myself to completing in months.
And the yarn waits.
The beautiful yarn which I bought for a new sweater, a new rainbow blanket pattern, and a gift for someone special.
One sweater half finished, a blanket almost done, my first ever knit sock and my second ever knit sweater.
They all sit waiting.
And I am learning patience.
Celebrating small steps.
Taking care of my body.
Enjoying all the things I can still do.
Being grateful for all the things I can still do.
My mother has kept up with pattern development and her lovely knitting and crocheting friends have taken over the pattern testing.
I keep up the technical end of things in smaller bouts than I used to.
I let go of writing for other people's blogs.
I have read more books in the last 8 months than I probably have since graduating university.  Which is saying a lot as I have always been a big reader.
It was a party the day my arm was healed enough that I could cut with my right hand again….hello new sewing projects!
It's not perfect, as patience is not easy.  Sometimes I just want it to be healed right now so I can go back to doing what I love to do.
But most days, I am learning to celebrate who I am right now and what I can do right now.  And who am I to complain when all I hurt was my arm?  If we had been in a car accident, and not just the threat of one, things could be so much worse.
I am learning of the good that can come when I am forced to slow down.
And I am finding new ways to celebrate the art of handmade…some of them which I can't wait to show you!
So please stay tuned here for new sewing projects, new crochet patterns, and other creative endeavours.
Have you ever experienced a life-changing injury?  I'd love to hear how you overcame the challenges.