Meet Miss Carrots.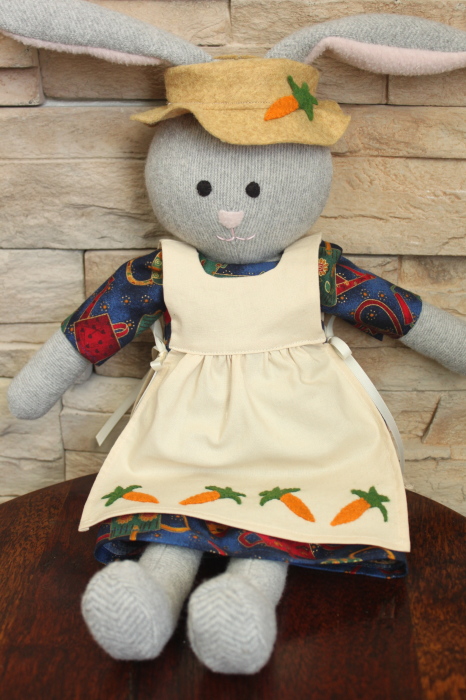 She is a pretty young lady who loves nothing better than to walk through the garden on a late summer's morning collecting her favourite food – carrots!
Miss Carrots was created from a felted wool sweater, with wool felt hat, and cotton dress and pinafore.
Over the last few weeks Sew, Mama, Sew has been posting 6 weeks of softie inspiration.  I have been inspired by the creativity of other designers, and decided that if I was going to create a new softie, from scratch, then I wanted to really challenge myself and try techniques I had never attempted before.
And  challenge she was!
But she also represents the fun process of creating anything – how one thing can lead to another, how an inspiring photo can cause a change of direction, and how nothing good ever comes without hard work.
Let's begin with Miss Bunny herself.  It began with a small photo of a country bunny in an old magazine.  The bunny had the cutest face and I loved the way the ears poked out of a straw hat.  But the bunny was knit, so if I were to bring her to life I had to start at square one.  Creating the body.
This is what my sewing room floor looked like in the middle of prototype creation.  On the right you can see the page in the magazine – my original inspiration.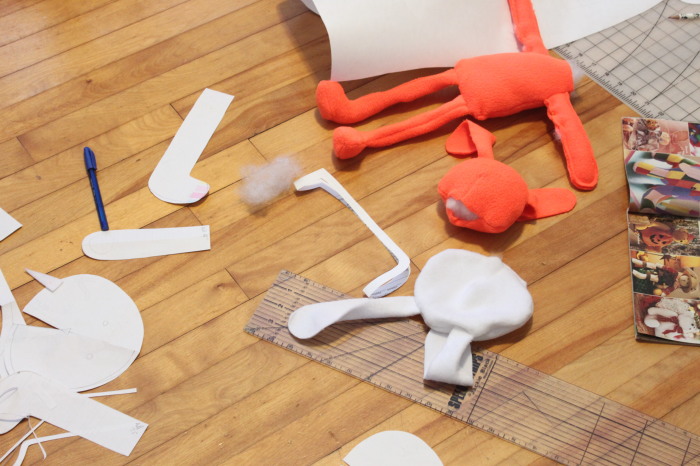 Yes, I often have animal parts strewn around my sewing room, don't you?  🙂
This was my first ever shaped animal face, and it took a few tries to get it just right.
I also challenged myself to create a foot with a footpad for the first time.  The inspiration came from this book, and the final product took several prototypes to look just right.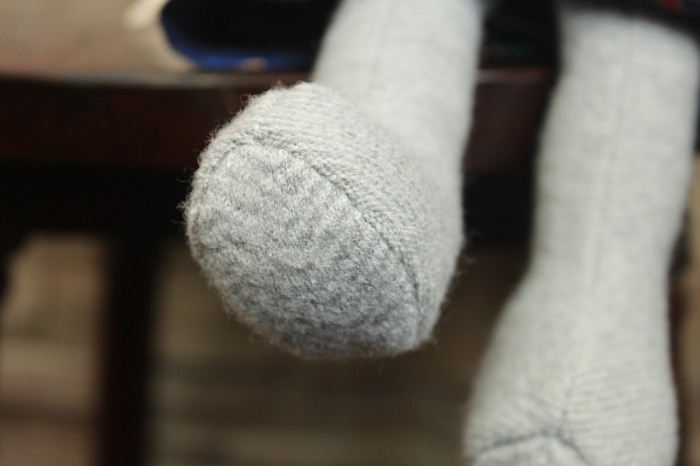 This is also the first time I created a joint in the knee of a stuffed animal.  This way she can sit on the edge of something and not have her legs stick straight out.
Here she is, showing a little leg – naughty girl!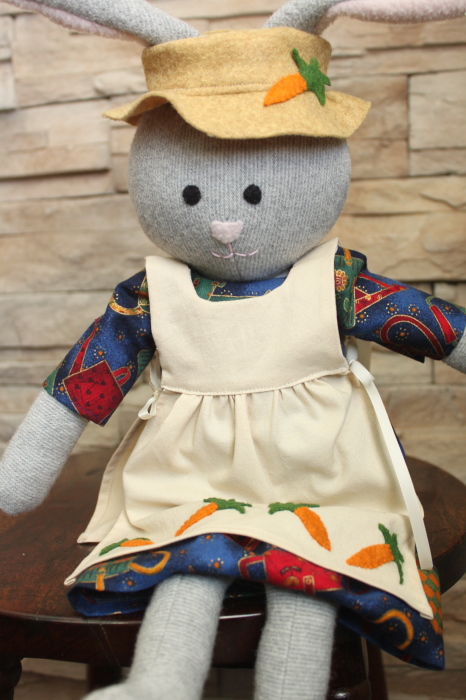 I made her several times in fleece before cutting into my favourite stuffie material – a felted wool sweater.  I love this beautiful soft grey, and the wool is beautiful and fuzzy.
So, days in, I know had a beautiful grey bunny.  But I couldn't leave her naked!  This began the second part of the process.
Inspired by this doll, I knew I really wanted to incorporate some embroidery somewhere, and what better than carrots for a wee rabbit?
I have never designed any sort of dress before, and I found the sleeves to be particular challenge.  I had been inspired by this little girls dress, and really wanted sleeves of the slightly puffed variety.  (The designer of the dress mentioned that she was thinking of Anne of Green Gables when creating this dress – another reason bunny got the name "Miss Carrots."  If you are familiar with Anne, you will know why this is so!)
I read several tutorials on designing and creating sleeves – perhaps I may use all that knowledge now for more than just bunny clothes!  Several prototypes later, we had a gown fit for a bunny intent on working in her garden.
The pinafore was a slightly easier matter, not having any sleeves to worry about.  I did forget to leave an opening at the back in the first round and poor miss was so disappointed when her new pinafore would not slip over her head.  The final version has an opening at the back, so she can remove both pinafore, and then frock, with ease.  After a day in the garden, it is bound to need a wash.
The hat was a tricky bit of engineering in wool felt, but I am happy with the way it turned out!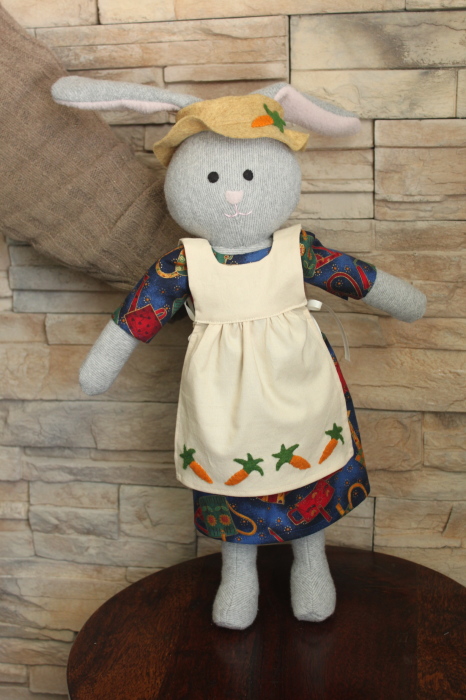 Carrots of wool felt were stitched on hat and pinafore, and she was ready for her first trip out to the garden.
Unfortunately, she may have a little longer to wait, as our garden is currently still buried under about 3 feet of snow.
From photo, to fleece, to wool, to adventures in puffed sleeves, to finished bunny!
It's been a journey to bring her to life, but what better time to celebrate the birth of a bunny than Easter week-end?
If you love softies, you should see some of the entries in the Spectacular Softies Contest – there is a lot of talent out there!  You might also like to donate a toy to the handmade toy drive.
Have you ever designed your own stuffed animal?  What was your favourite part of the process?