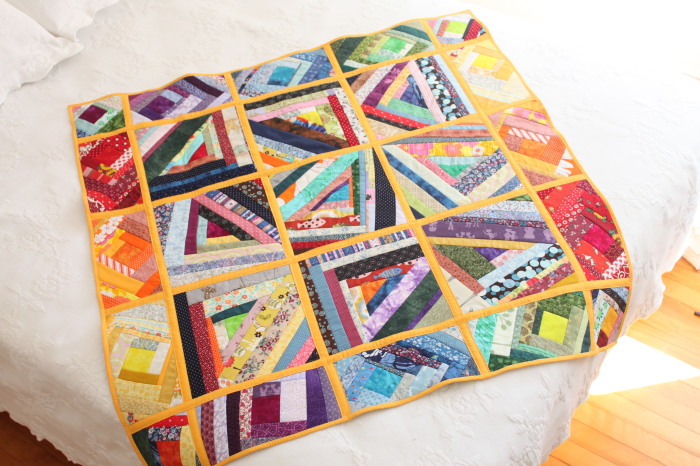 March has been a good month for me for finishing up quilts!  First my multi-generation quilt, and now this pretty little baby quilt.
I have to admit I am in love with this quilt.  I wish I had made it about 4x the size so I could keep it for myself!
The idea came from this book, which I picked up at a discount book sale.  I have made myself a promise not to buy any more sewing and quilting books until I have actually made at least one item from the books I already own!  (We will see how far I get…)  This quilt was one of the reasons I bought the book, so it feels quite satisfying to actually be holding it in my hands.
On top of using the books I already own, I have also been trying to use the materials I already own.  Especially with this quilt, since I already had 5 quilts in various stages of completion when I started to embark on this one!  (Perhaps you can imagine the conversations I have with myself…"Okay, you can start another quilt even though you haven't finished all of those, but only if you don't purchase any new fabric for it!")
I used scraps of hand-dyed cotton for the centre pieces, which I had left over from making pencil rolls,  and then had a great time raiding my other scrap bins for the strips.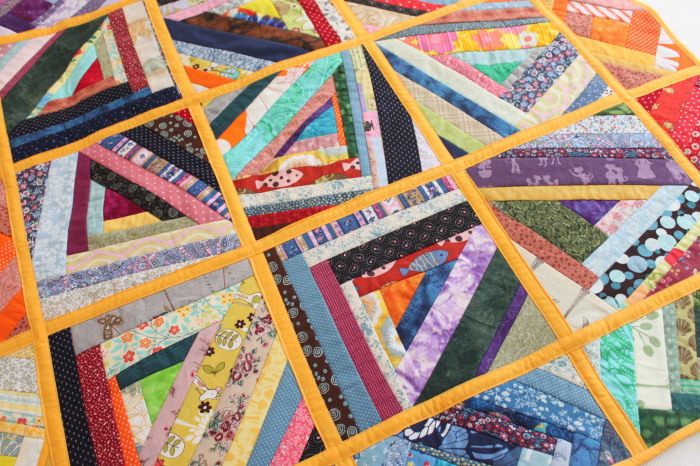 This was my first project using the "quilt-as-you-go" technique and I have mixed feelings about it.  To begin with, I did not, as suggested, baste batting squares to backing squares before I started sewing the top.  Not having batting on hand, this would break my rule about using what I had!  Instead, I cut out fleece as my backing fabric (which I have in abundance), and skipped batting altogether.
This saved a step and made the sewing/quilting process very much like paper-piecing, which I absolutely love!  This was an incredibly satisfying quilt to sew.  As I happily sewed all of my log cabin squares I was busy planning future projects in my head.
But then came the step of sewing the blocks together.  Sewing the blocks to the borders and topstitching was finicky and time consuming.  Now, I do admit quilter's error on this one.  Combining fleece with a strips of fabric cut slightly off-grain (oops!) made it tricky to keep the blocks lined up and straight.   And then my machine started acting funny halfway through….
As I unpicked seams for the third or fourth time in a row, I mentally crossed off my to-do list all of the projects I had been planning while happily sewing the blocks.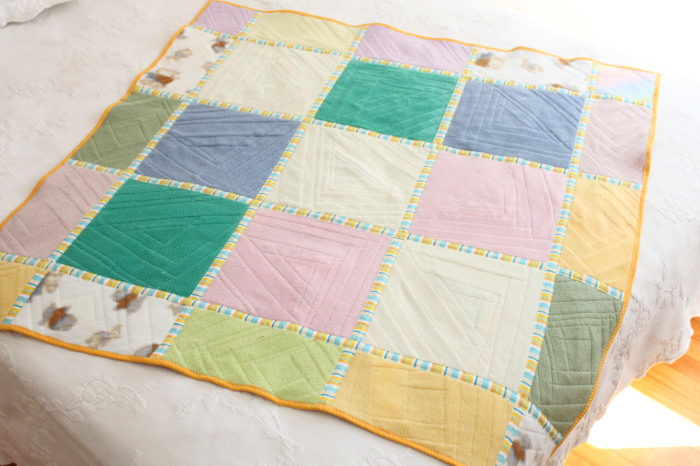 But now it is finished.  And I am SO IN LOVE with it!!   I love the bright colours, the soft fleece back, the weight and feel of the quilt.  Maybe all that square sewing wasn't so bad after all….. 🙂
Have you ever had a sewing project that seemed like so much work at the time, but so worth it in the end?