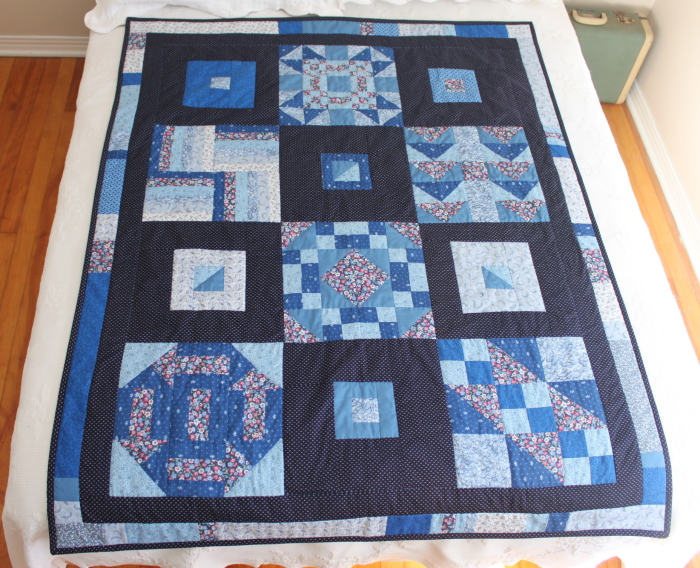 This week I finished my first ever hand-stitched quilt.
And probably one of the most special quilts I will ever stitch.
When my grandmother died, I received all of her sewing supplies and fabrics.
As I sorted through fabrics and scraps, in amongst them I have found pieces of quilts in various stages of completion.
Including a set of sampler blocks.  And all of the coordinating fabrics.
Once I found them, I had the idea of making a quilt that combined both her blocks, and some of my own, into a multi-generational quilt.  I wanted to make it a true reflection of both generations:  a balance of traditional and modern.
Several years ago I finished the quilt top.  I used a simple, modern, square in square block to compliment her more traditional, and busy, sampler blocks.  You can see that original quilt top at the end of this post.
I used the leftover scraps to make a border that would balance the two and draw out the colours from the dark background.
Then I decided to do something I had never done before – hand-quilt it.   Which was akin to sending it to a basket in my sewing room for years while I waited for an opportune moment to learn how to quilt by hand!  Memories of the frustrating hours spent at my grandmother's quilting guild trying to make my stitches tiny and straight on the small "practice piece" probably kept it in this waiting condition longer than necessary…..
Then enter Anna Maria Horner and her beautiful hand-quilted quilts, using Perle Cotton!  Now this was something I thought I could do.  Larger thread, larger needle, and a nice traditional/modern twist to my quilt.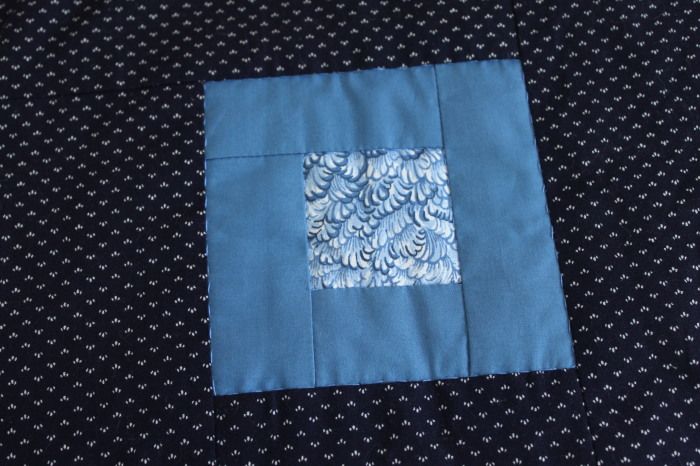 I actually enjoyed hand-quilting this quilt, and although my stitching is far from perfect, I am quite proud of the way it turned out.
This week, when the last stitch was placed and it was time to bind the quilt, I opted for something else I had never done before – machine-stiched binding.  Gasp!  I know.  My grandmother would probably be horrified, but I really wanted to learn how to do this, and do it well.  (I still have nightmares about the time I was still hand-stiching binding to the back of a quilt on the way to a baby shower!)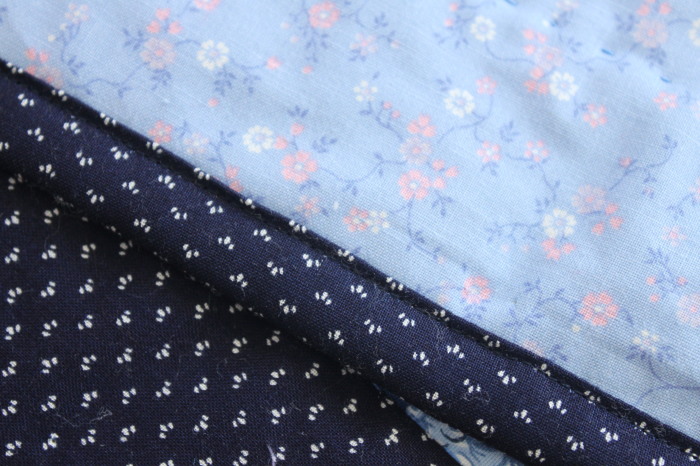 I followed this tutorial, and am so pleased with the results!  It made a nice neat finish – and left me some time to work on other projects! 🙂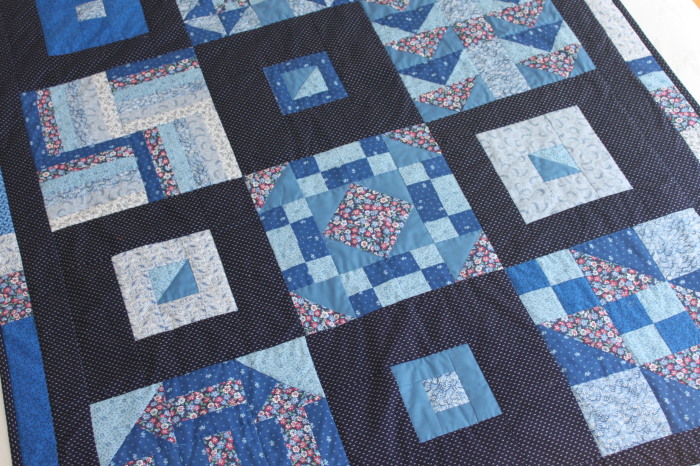 Although most of my quilts find their way to other homes, this one is a keeper.  It will have a place of honour, hanging on the wall in our hallway.  And every time I walk by it, I will smile as I remember my grandmother.
Have you ever worked on a multi-generational project?