Are you familiar with Settlers of Catan?  Hubby and I LOVE the game in all of its variations and are blessed enough to have several friends who enjoy playing, too.
With some inspiration from tournaments we have attended (if you look waayyy back in the blog archives you will find photos of hubby and I at a Catan-themed costume party…we also discovered that if you google "Catan tournament trophy" you will find a photo of hubby in his costume from said party…kind of weird to see yourself in a Google search…), and at the suggestion of a friend, we decided to hold our own Catan tournament over the holidays.
Once we had confirmed guests, I did what any modern women would do – I went to Pinterest!!  I started pinning items from parties, tournaments, the unofficial Catan cookbook, and Catan-themed weddings.  This prompted Hubby's quote of the week:
"No matter how much of a geek you are, there is always somebody out there who is geekier."  🙂
I got some great ideas for Catan-themed snacks which I put to use on party day.
I was really excited about my snack table.  I found the free printables here.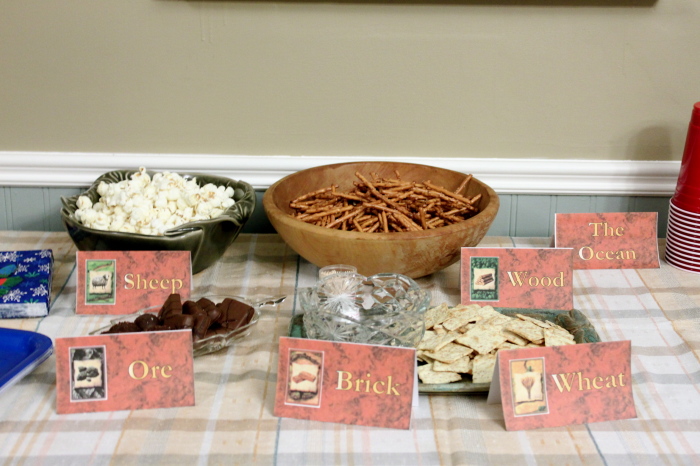 (Please pardon the less-than-steller photography in this post.  I almost didn't have photos, I took these quick just as the first guest was arriving.)  The cards were actually a nice deep red…and the "brick" was cheese cubes which I didn't have out yet…
And these hexagon Catan cookies were fun, too.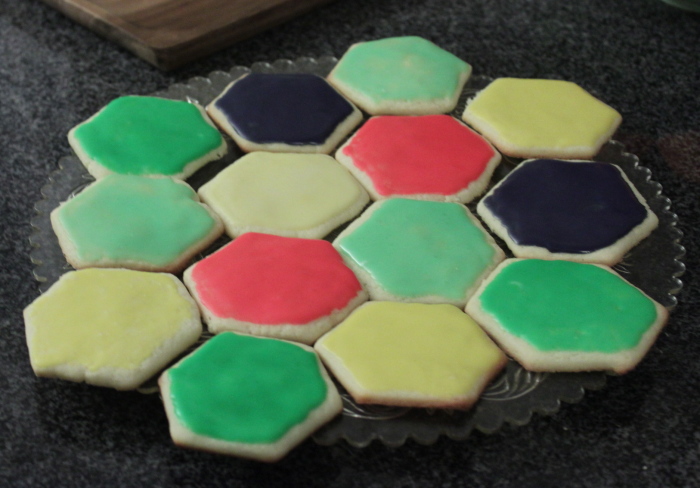 Then we had to have a trophy.
After throwing round a number of different ideas, I finally dreamed up this banner: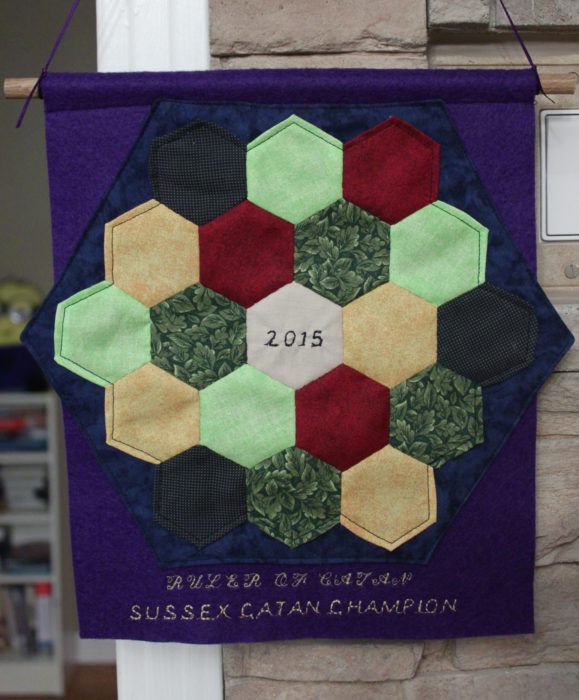 It was my first time sewing hexagons, and I can see why they have become so popular.  Although they are completely hand-sewn, it's kind of addictive to cut them out and sew them together.  One of those things you start to do and then let your mind wander…..
In the end, it was a great night.  The woman who went home with the banner absolutely loved it, which made my heart happy.  And she deserved it after winning all 3 tournament games!
It sounds like it may become an annual event, so I suppose I need to get back to the Pin board and start planing for the next one!
Anyone else out there like to throw themed parties?  I'd love to hear about it!