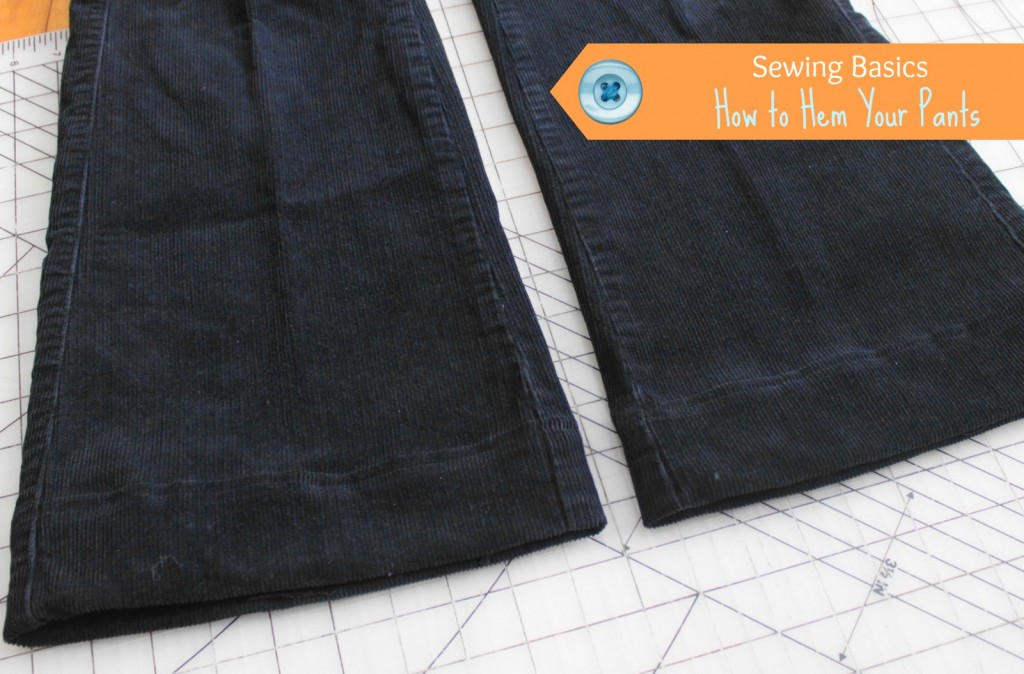 This is the second post in the Sewing Basics series.  Of all the things I get asked to do as a seamstress, this one probably tops the list.  Unless you are lucky enough to be a standard size, you have probably at some point purchased a pair of pants that were too long and required hemming.  Professional hemming usually costs somewhere between $10 and $20, depending on the type of pants and who is hemming them.  If you have several pairs that need hemming, it can add up quickly.  And lets not talk about those other ways of "hemming" – scotch tape, duct tape, staples, and safety pins are just a few I have personally seen, and I am sure there are other creative ideas out there!
So what's a girl (or guy) to do when their pants are too long?  Learn to hem them yourself!  It really isn't that difficult, and it's much better than the alternatives! 🙂
How to Hem Your Pants
 Materials
A pair of pants in need of hemming, washed and dried (If they are new and will be going in the dryer, sometimes I'll wash them twice, just to make sure they have finished all of their shrinking!)
A sewing machine and matching thread
Scissors
Pins
Step 1:  Mark the ideal length
This is much easier to do with a friend to help, but it is totally doable on your own.  What you want to do is fold the bottom of the paint leg up at the ideal length and then pin it.  Rather than pulling it up on the outside (like a cuff) you are going to tuck it under and up inside the pant leg (like it will be when you are finished hemming.)
Make sure you are happy with the length (don't forget to try it out with the shoes you usually wear) and then pin them in place.  Then take them to the ironing board and press the bottoms well at their new length.  If the hems are slightly uneven, this is the time to fix them and make sure they are straight.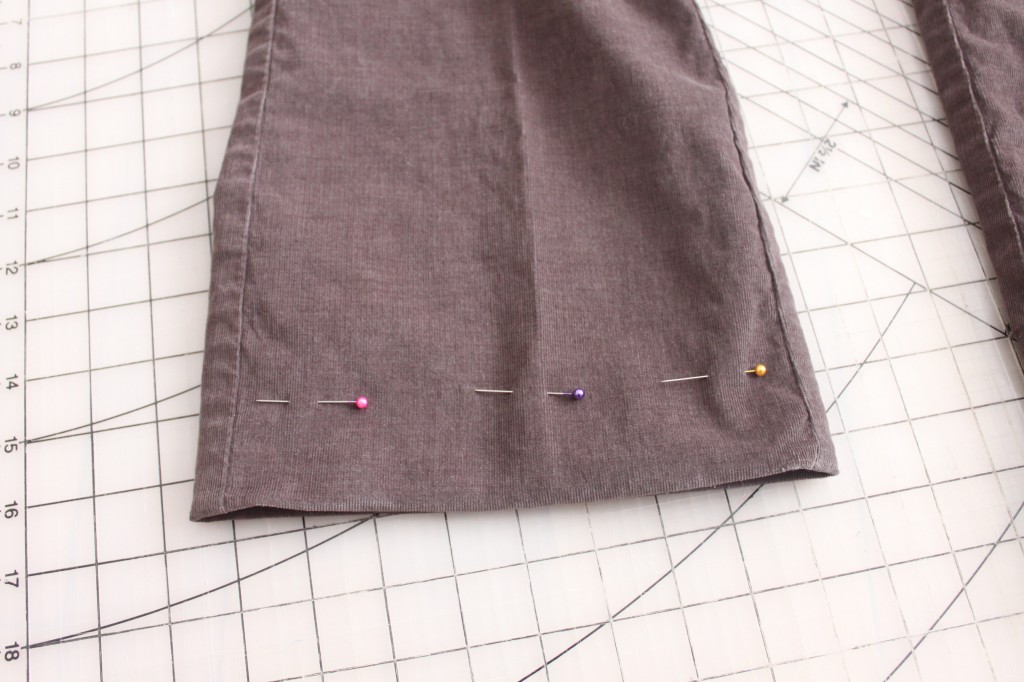 Step 2: Cut
Lay your pants on a flat surface and unfold the hems.  If you are lucky enough to have a decent amount of fabric between your fold line and the original hem (at least 1 1/4″ for a narrow hem) you can go ahead and cut off that original hem.  If your pants have big hems like mine, or if you only need to hem them a little, you will have to sit and pick out the stitching of the original hem. (I know, I know, it's not my favourite job either, but seriously sit down with some of your favourite music or a good movie and you'll have them done in no time.)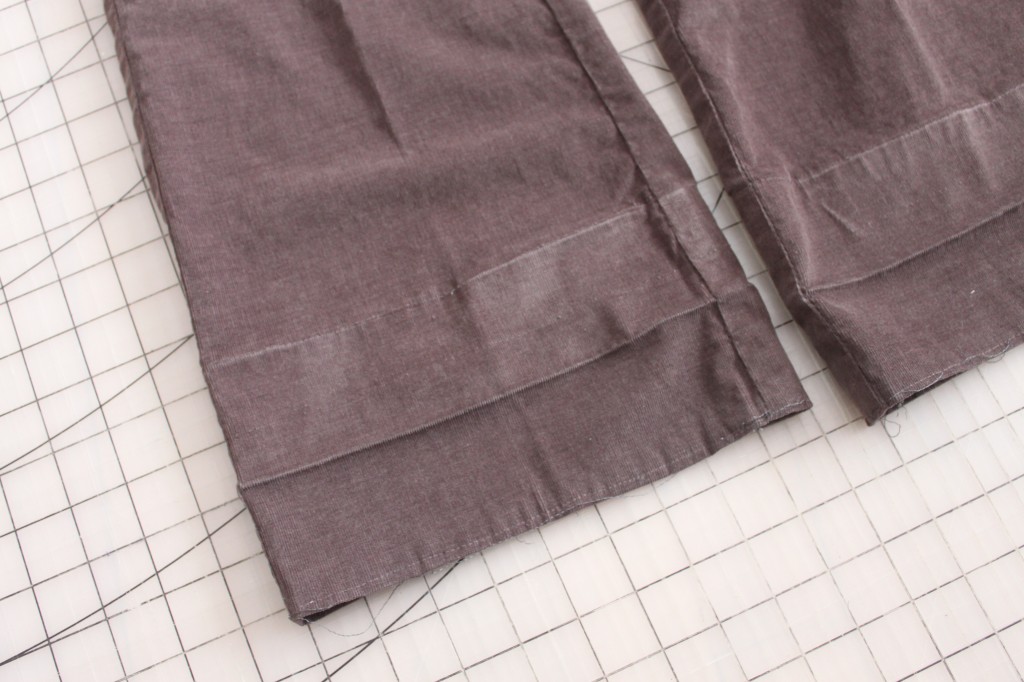 In this photo the top fold line is my ideal length, and the middle fold line is the original length of the pants before I unpicked them.
Now you want to think about how big you want your finished hems to be.  I usually use the original hem as a guide, but at this point, anything goes.  If your pants had big hems and you prefer small, this is your chance to be the designer!  Whatever that number is add 1/2″ for folding down the raw edge, and now you know how much fabric you need to leave below your fold line.  For example, if you wanted your finished hems to be about 1″, you would want to leave 1 1/2″ of fabric.   Use a ruler to mark that amount all the way along the pant leg and then cut off the excess.
Step 3: Press and Pin
Take your pants back to the ironing board and press the raw edge under 1/2″ all the way around the paint leg.
Then fold them under on your original press mark (the ideal length) and pin them in place.  At this point I like to try them on again, just to be sure they are exactly the length I want them.  It's much easier to fix it now, before you start to sew.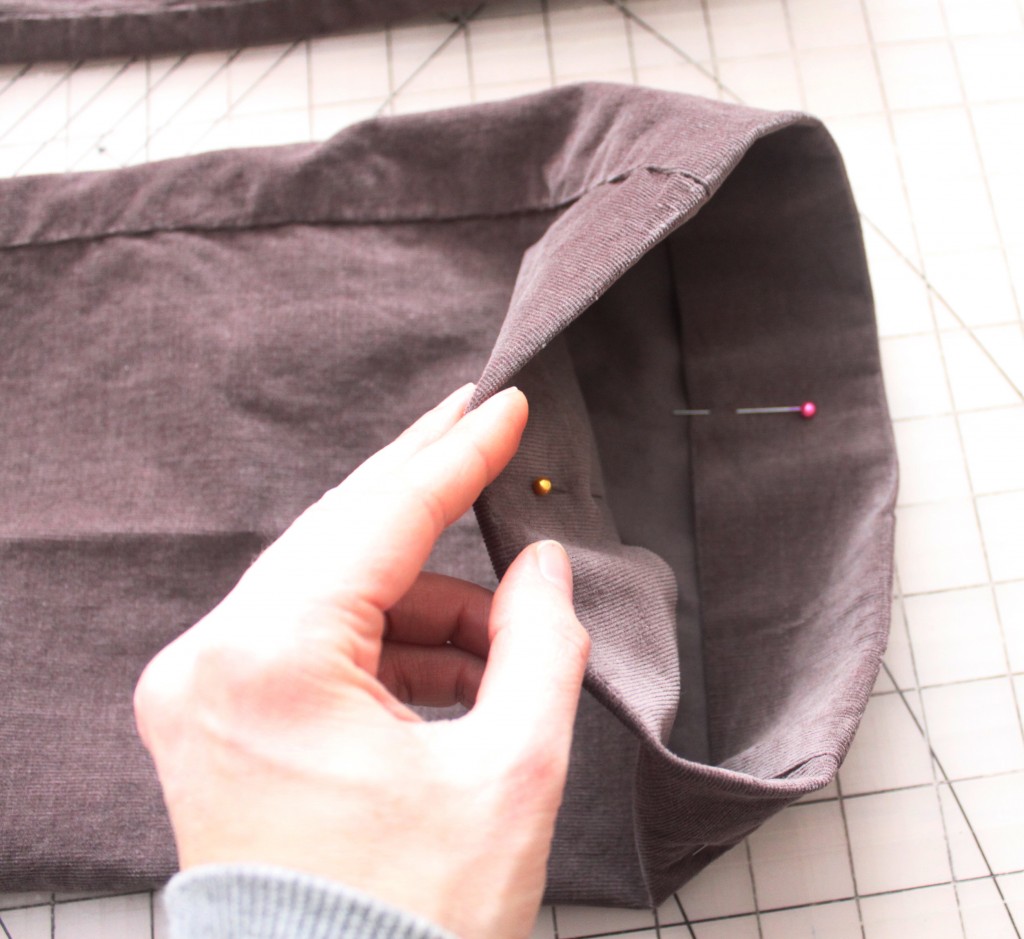 (Okay, so you may have noticed that the pants I am hemming here keep changing colour.  As I was working on the original pair I realized there was a way to skip a few steps, if your hems happened to be in the right place, so had to use a second pair to show the longer way.   I'll show you the shortcut at the end.)
Step 4: Sew
Now take the pants to the sewing machine and sew all the way around the hem with a straight stitch, close to the folded edge.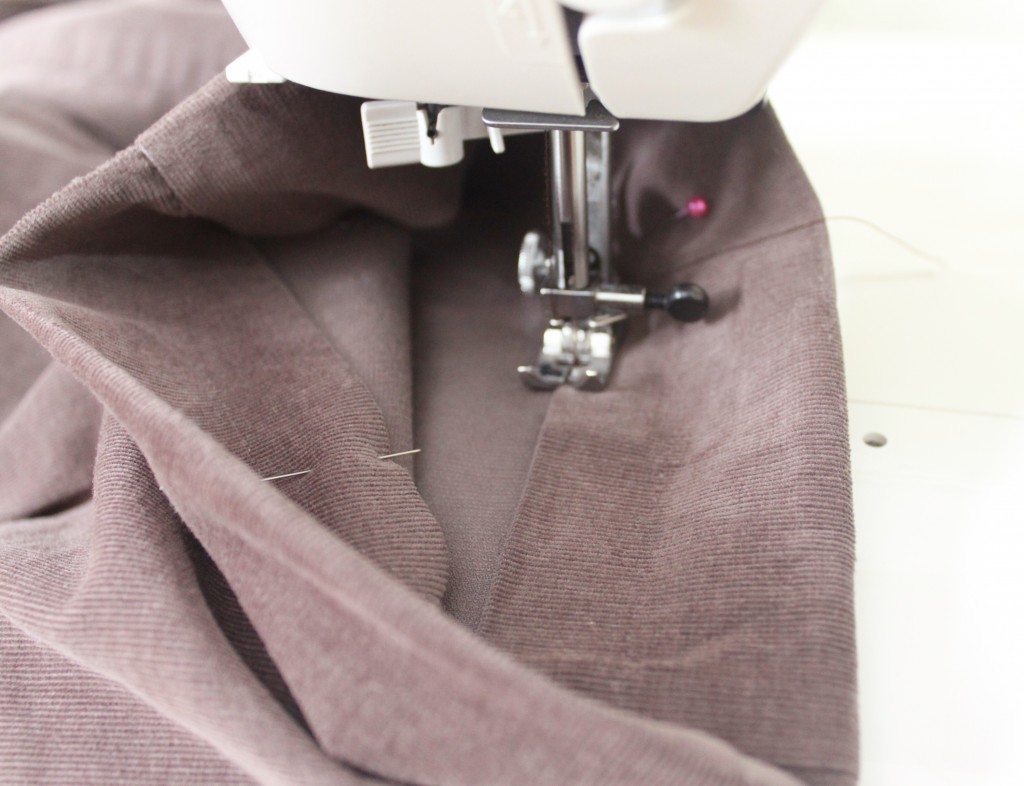 Repeat with the other side.
Step 5: Show Off!
You're done!  Now you can show off your new, perfect-length pants! (no tape, staples or safety pins required.)
This method of hemming works for all pants with a visible seam.  For those special dressy pants with invisible hems, I find it easiest to hem those by hand with a blind hem.  And if you are hemming jeans, there is an incredibly easy way to hem them and keep the stitching of the original hems intact!
Hemming Short Cut
As promised, here is a short cut that might work on some of your hems.  In the photo below, the ideal length of my pants ended up being at the top of the original hem, on the original stitching line.  When this happens, it is really easy to make use of the original hem line and save yourself some measuring and ironing.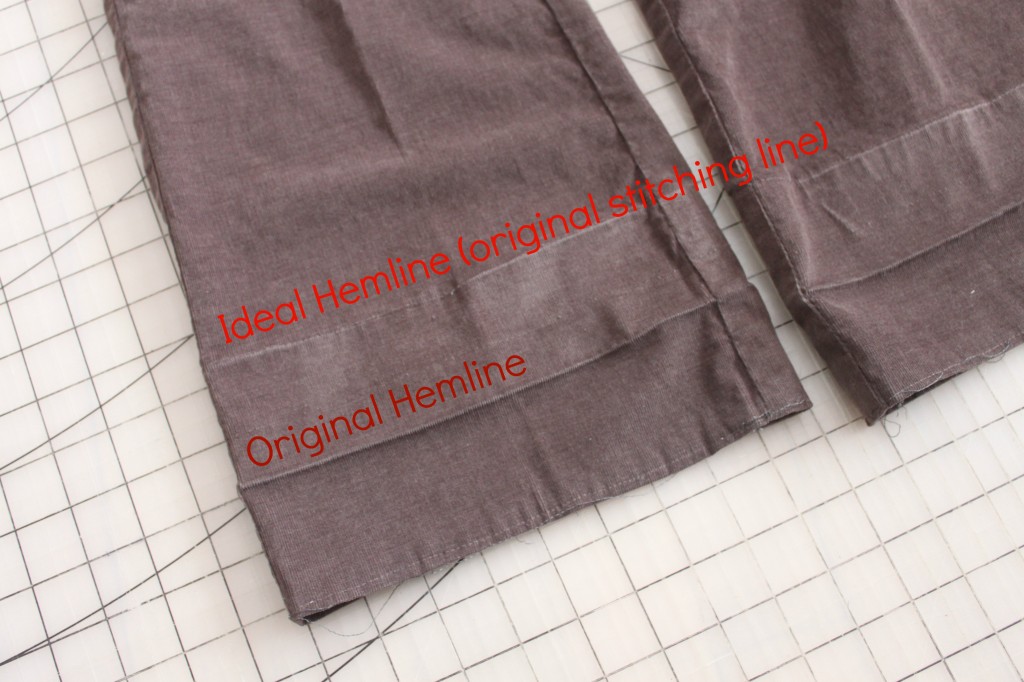 I cut the pants off 1/2″ below the second fold line (the original hemline of the pants).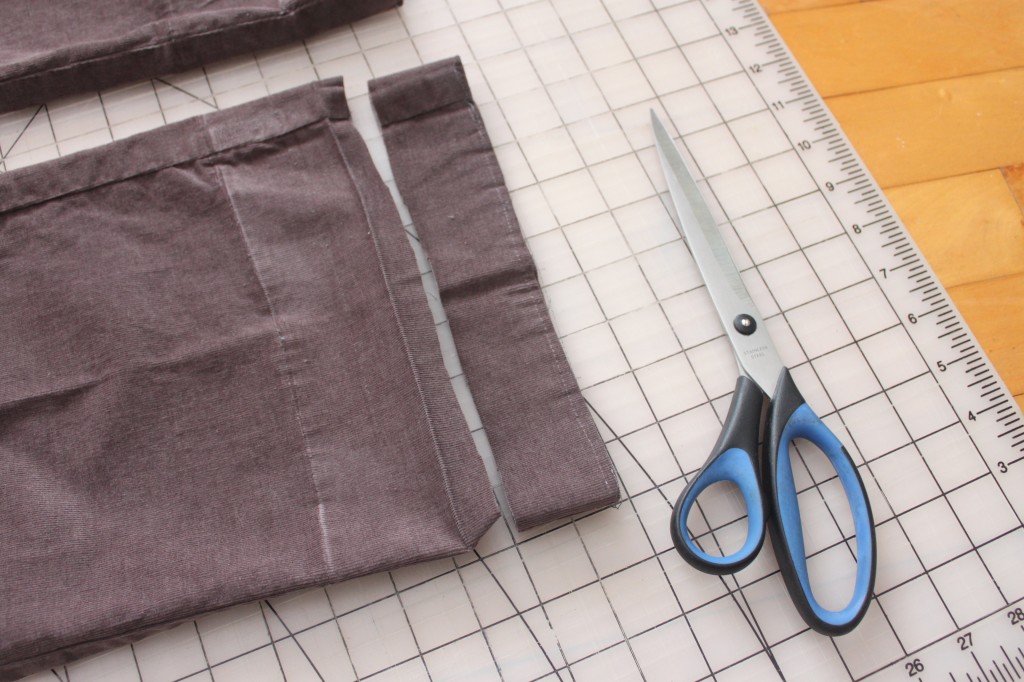 Then I refolded the fabric along the fold line to tuck in the raw edges.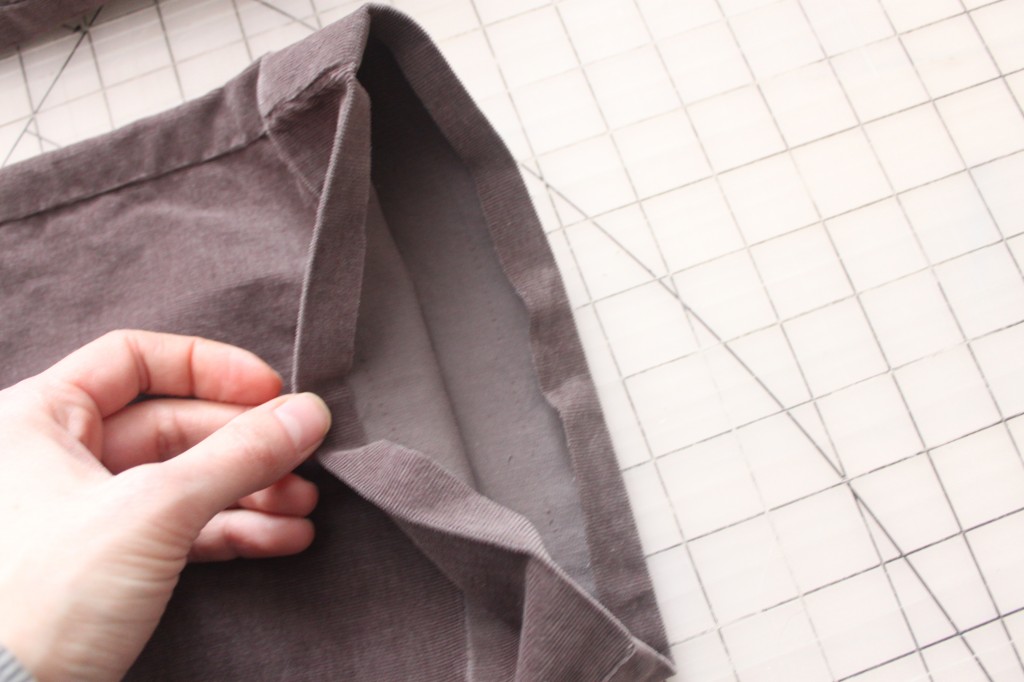 After that it was a simple matter of folding them up, pinning in place, and sewing.  Easy, peasy, right?
Anyone out there willing to confess?  What is the craziest thing you have done (or seen done) to temporarily "hem" a pair of pants?