A while ago, when I was thinking about presents for a friend, I found a new use for Pinterest – gift snooping!  A quick peak at her boards gave me a number of ideas to choose from (and confirmed an idea I had already had.)  Just another reason to love Pinterest!

So, for her birthday, I made her this: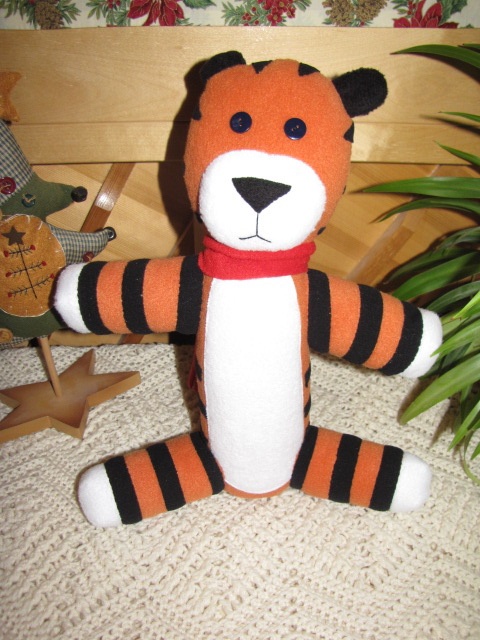 This is Hobbes, from the Calvin and Hobbes comic strip by Bill Watterson.    I found an amazing tutorial on Instructables and then got set for hours of hand-sewing.  Yes, hours.  This is not a toy you make for just anybody as every single stripe is hand-sewed.  But everyone has those friends they would do anything for, right?    And all of it was worth it when I saw how much he was appreciated in his new home!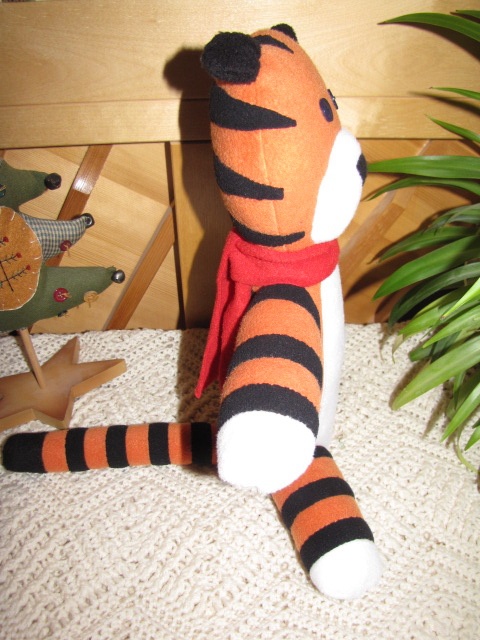 I also learned some interesting Calvin and Hobbes trivia as I searched out different ways to make a Hobbes toy.  It seems that Bill Watterson is adamantly against the merchandising of his cartoon.  So much so, that when a toy company sent him a bunch of stuffed Hobbes toys for his approval, he burned them all in a bonfire.  The only one left was the one that the manufacturer had kept, and that sold for hundreds of dollars on eBay. (or so the story goes….)  You have to respect a man with convictions, though.  I can guarantee that there will be no more Hobbes making in this house.  This was definitely a one-time endeavour.
Do you have a favourite comic strip character?  I'd love to hear about it!  Although I do enjoy Calvin and Hobbes, we are Garfield fans through and through in this house.