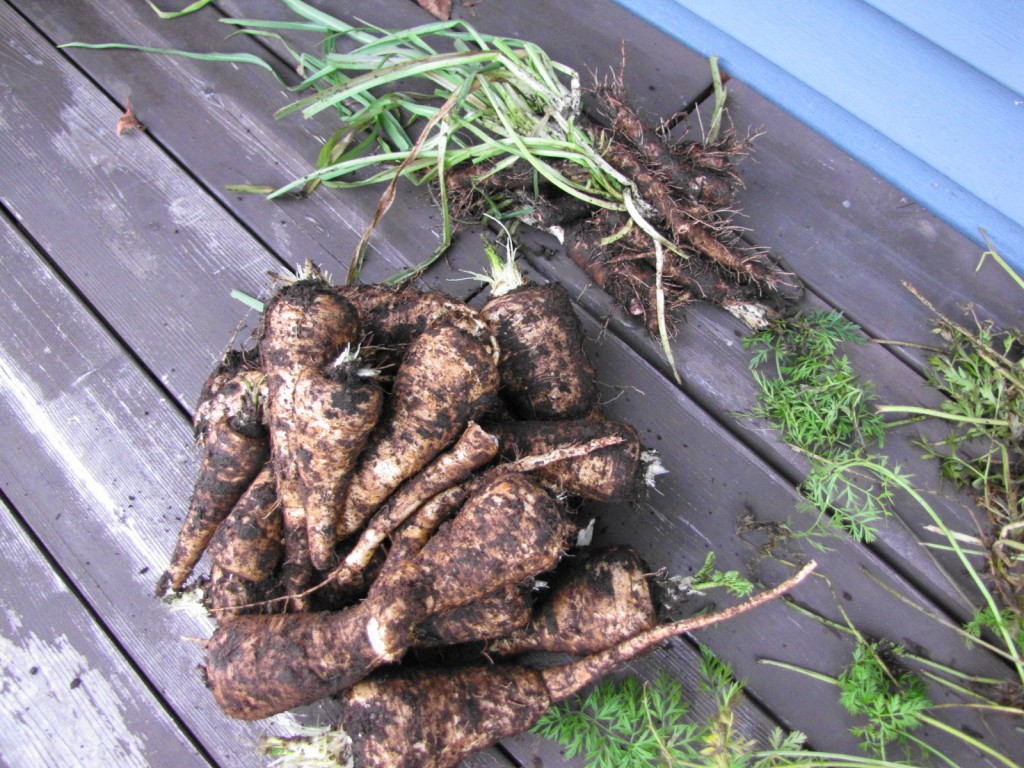 This is a picture I took late one frosty November evening after I completed the final fall harvest.  Carrots, parsnip and salsify.  And yes, that is quite a bit of parsnip.  And yes, some of them seem to be monstrous in size. (I couldn't wrap my hand around a few of them!)  And no, hubby does not like parsnip and with its distinctive flavour it is a hard vegetable to hide.  Trust me.  I've tried.
So I gave some away to some parsnip-loving friends, and still my fridge drawer is full.  I love them roasted in the oven with a little olive oil, garlic and spices.  But there is only so much parsnip a girl can roast!
Enter parsnip muffins.  I found a great recipe through Whole Foods, and then, of course, I changed it.  My version is made with a mix of whole wheat and spelt flours, uses butter instead of oil, and honey instead of sugar.  And they are yummy.  Spiced like carrot cake, moist, but not too moist, with the sweetness of raisins and the heartiness of nuts.  If you don't have parsnips, I am sure you could substitute carrot and still have stellar results.
Parsnip and Apple Muffins  
Makes 18 muffins
1/2 cup pecans
1 cup whole white flour
1 cup spelt flour
3/4 tsp baking soda
1 3/4 tsp baking powder
1/2 tsp salt
1 tsp ground ginger
1/2 tsp nutmeg
1 1/2 tsp ground cinnamon
1/4 tsp allspice
1/2 cup raisins
2 large eggs, lightly beaten
3/4 cup butter, melted
1/3 cup almond milk (or any milk)
1/2 cup honey
1 1/2 tsp vanilla extract
3 parsnips, peeled and grated
1 large apple, peeled and grated (without the core, of course!)
Roast nuts at 350 until browned and fragrant, about 8 minutes.  Let cool and chop.
Grease muffin pans or line with paper liners.  Combine flours with baking soda, baking powder, salt and spices.  Stir in raisins and nuts.  In separate bowl combine eggs, melted butter, milk, honey and vanilla.  Add into flour mixture along with parsnip and apple.  Stir until just mixed.
Fill muffin tins and bake at 350 for about 20 minutes, or until a toothpick comes out clean.  Cool on a wire rack.
Enjoy!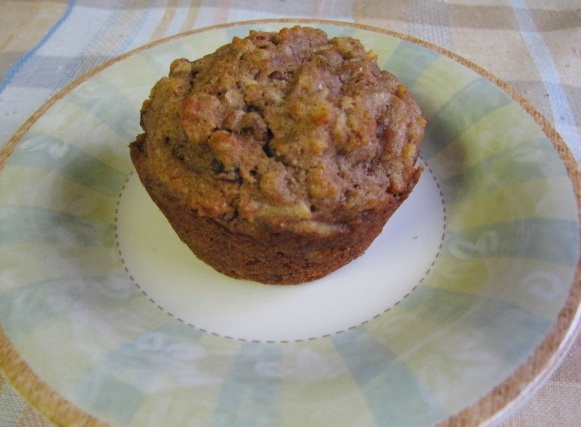 What vegetables do you have to find creative uses for?