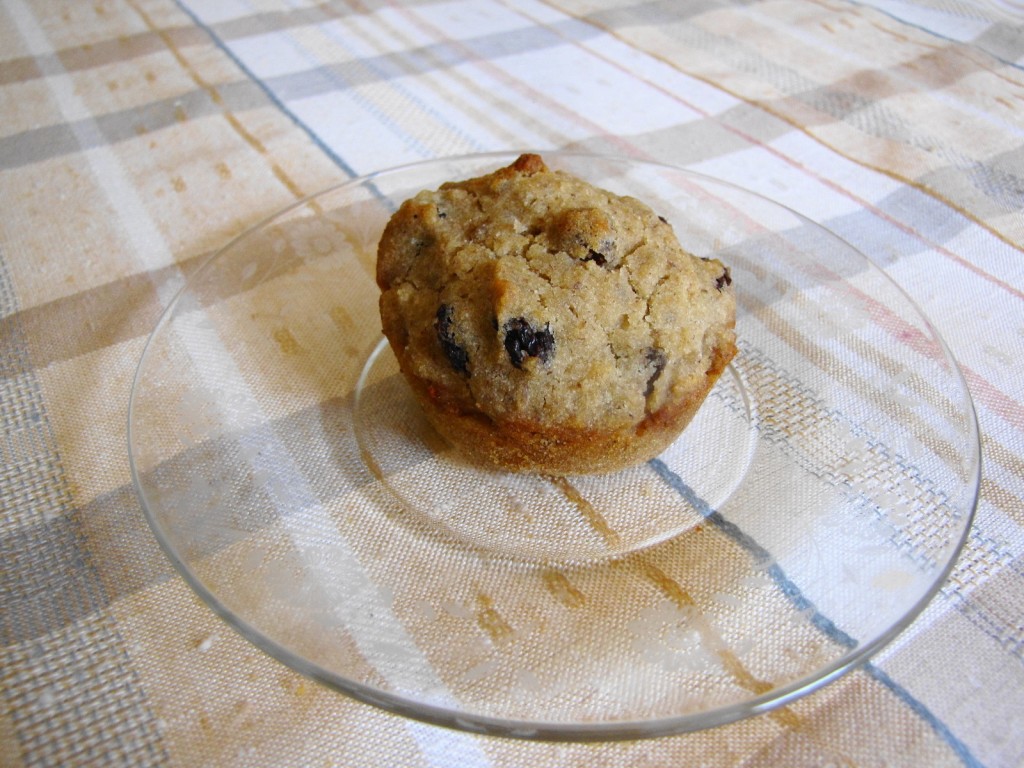 I am slowly getting the hang of this new way of eating.  One of my friends said to me the other day that watching me do this has made her more aware of just how much wheat she eats.  All I can say is, me too.  Bread, muffins, biscuits, cookies, fruit crisp, cake, oh how I miss my baking!
I have also discovered that there is definitely a learning curve to baking without wheat.  Especially when you also aren't eating eggs.  But…ta-da!  Some moist, delicious, yummy, muffins!  The inspiration came from here.  I used ground flax instead of eggs and after reading a lot about guar gum and xanthan gum I have decided they aren't something I want to add into my diet.  But chia seeds to the rescue!  I read here that you can substitute chia (or ground flax) for gums – hooray!  And so, muffins are back into my life!  I made this batch with raisins and almonds, but think I might experiment with some fresh fruit for the next batch.
Applesauce Muffins
1/4 cup oil
1/4 cup applesauce
1/4 cup honey or maple syrup
1/4 water
1/2 Tablespoon of ground flax seed mixed with 1 1/2 tablespoons of water
1/2 tsp chia seed mixed with 1 1/2 tsp hot water
1/4 tsp baking powder
1/4 tsp baking soda
3/4 cup brown rice flour
1/2 tsp cinamon
1/2 tsp ginger
1/4 cup nuts or seeds
1/4 cup dried fruit
Combine oil, applesauce, honey, water, flax and chia mixtures (this is very easy to do in a measuring cup!)  In a separate bowl, combine remaining ingredients.  Stir the wet mixture into the flour mixture until moistened.  Fill 6 greased muffin cups with batter and bake at 350 for 20 – 25 minutes, or until done.  Remove from the pan and cool on a wire rack.  
Enjoy a happy snack!