So it seems cooking through my Pinterest boards has extended into another month.  I'm ok with that.  There are so many great ideas filling up my boards (and I already have such a backlog of recipes to share with you!)
Once again, I have included links both to the pin itself, and to the site, so those of you who are not on Pinterest can check out the recipes too.
Quinoa Burgers
These were really good.  Mild tasting enough that even hubby enjoyed them on a burger bun with all of the fixings (as a side note, the burger buns were a pinterest recipe too, I'll share those soon!)  I still have some stored in the freezer and they heart up well in the oven, too.
Baked Onion Rings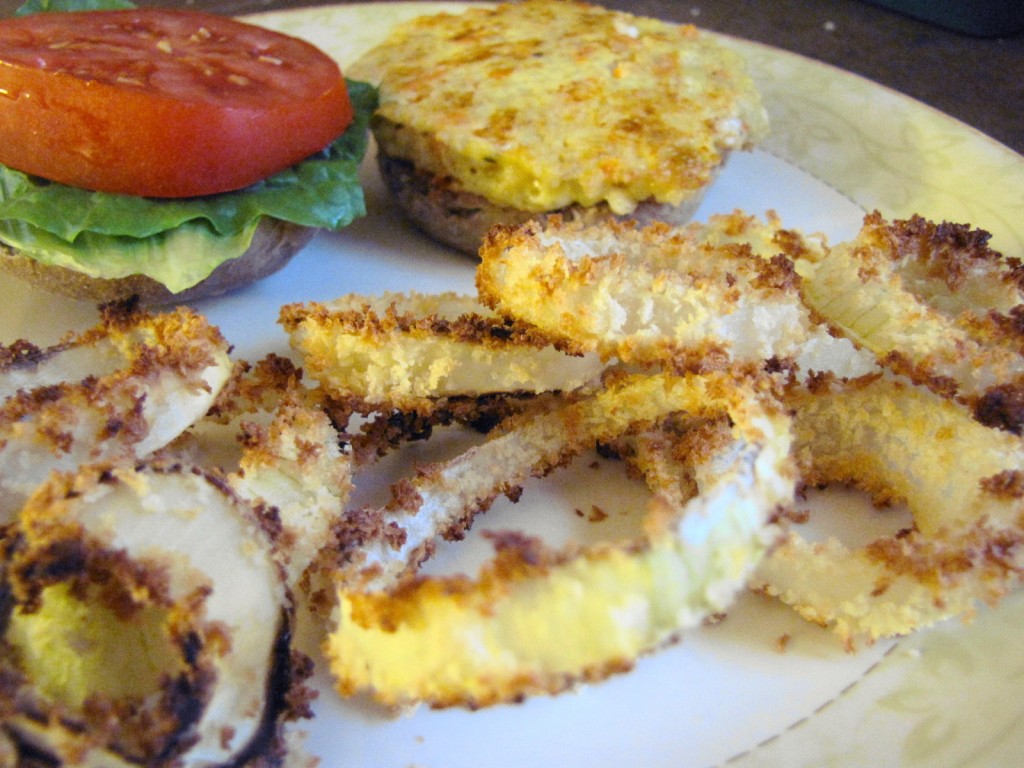 Onion rings are one of my guilty pleasures.  I don't eat at fast food joints very often, but when I do, I want to eat at a place with onion rings.  Yum.  So I was quite excited to try out this baked version I could make at home.  The end result was good, crunchy, and full of onion flavour.  But they definitely tasted, um, healthier.  Which means I can enjoy them more often.  But I have to admit, I think I will still crave that greasy deep-fried taste.
Hail Caesar Salad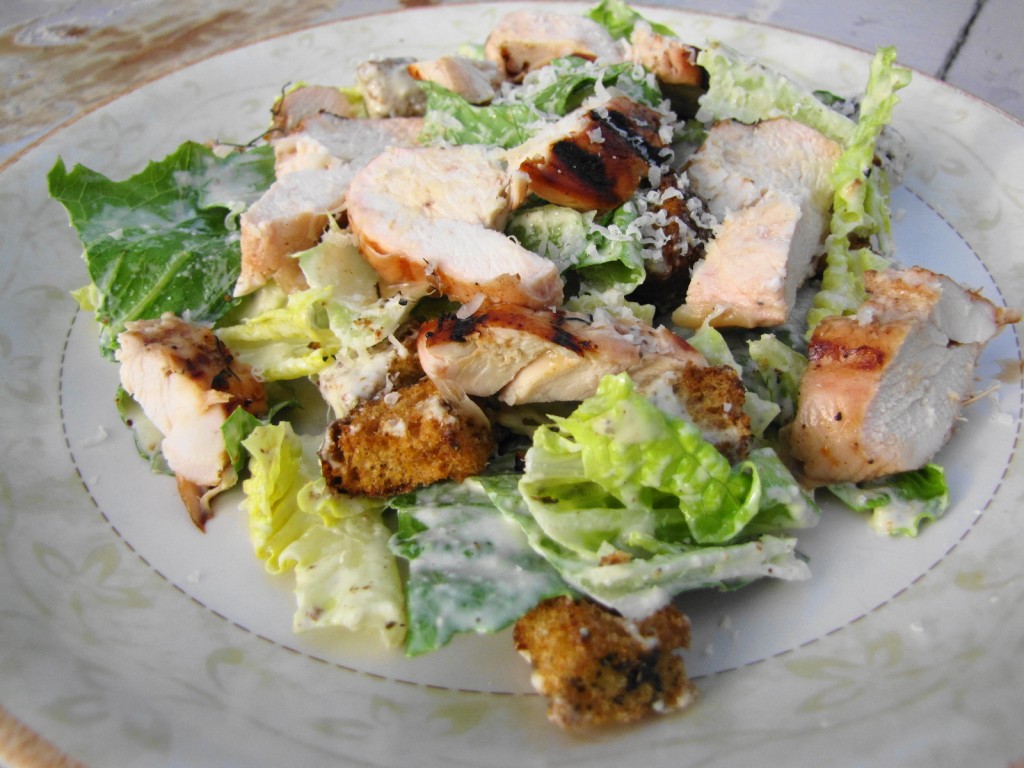 This is a recipe from the TV program "Eat, Shrink, and be Merry"  and it was darn good!  I grilled the chicken on the BBQ and it was beautiful, moist, and full of lemon flavour.  (My first attempt at BBQ chicken was a charred disaster so I was really proud of myself for this one!)  The caesar salad dressing was to die for.  Creamy and garlicky and so good.  Except that I used a really large garlic clove, which was a little too much for hubby.  And yes, we were still tasting garlic the next morning.  So next time I will cut back on the garlic a wee bit (but not too much!)  I also used homemade croutons (recipe to follow) instead of the store-bought they suggested.
Homemade Croutons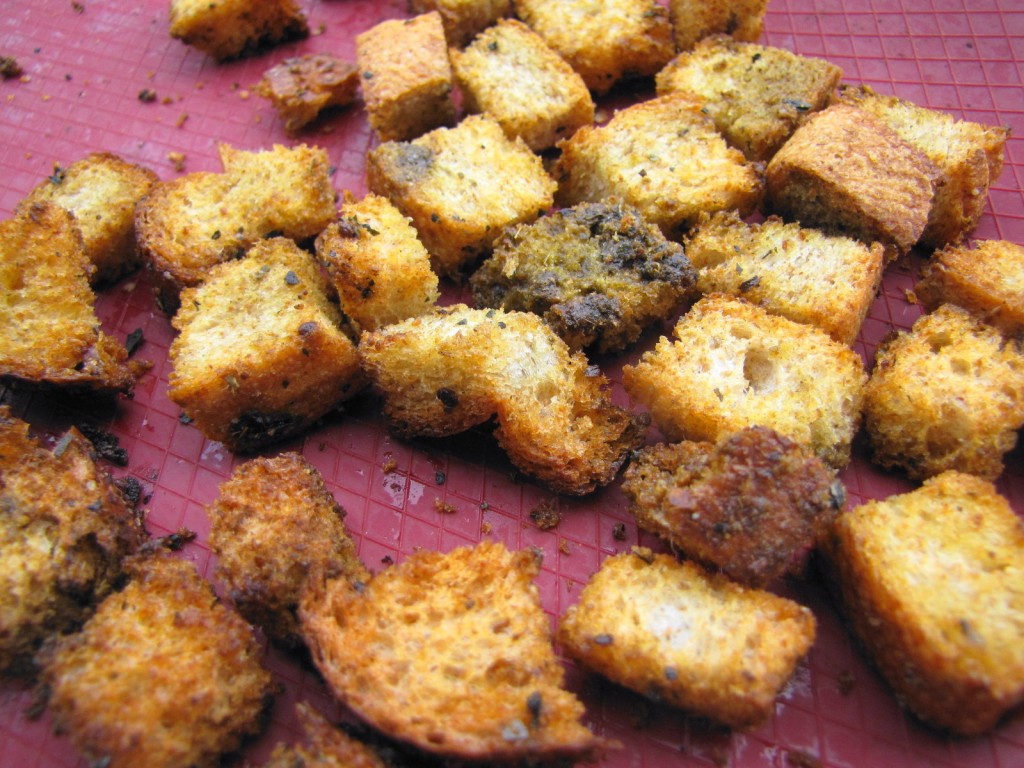 Making your own croutons is really easy.  And you don't really need a recipe.  But sometimes I like guidelines (and then I feel free to do my own thing anyway!)  I liked the garlic herb combination on these.  But I did find mine took a lot less time to cook than the recipe stated (10 – 15 minutes, instead of the stated 20 – 30 minutes.)
Quinoa Mac and Cheese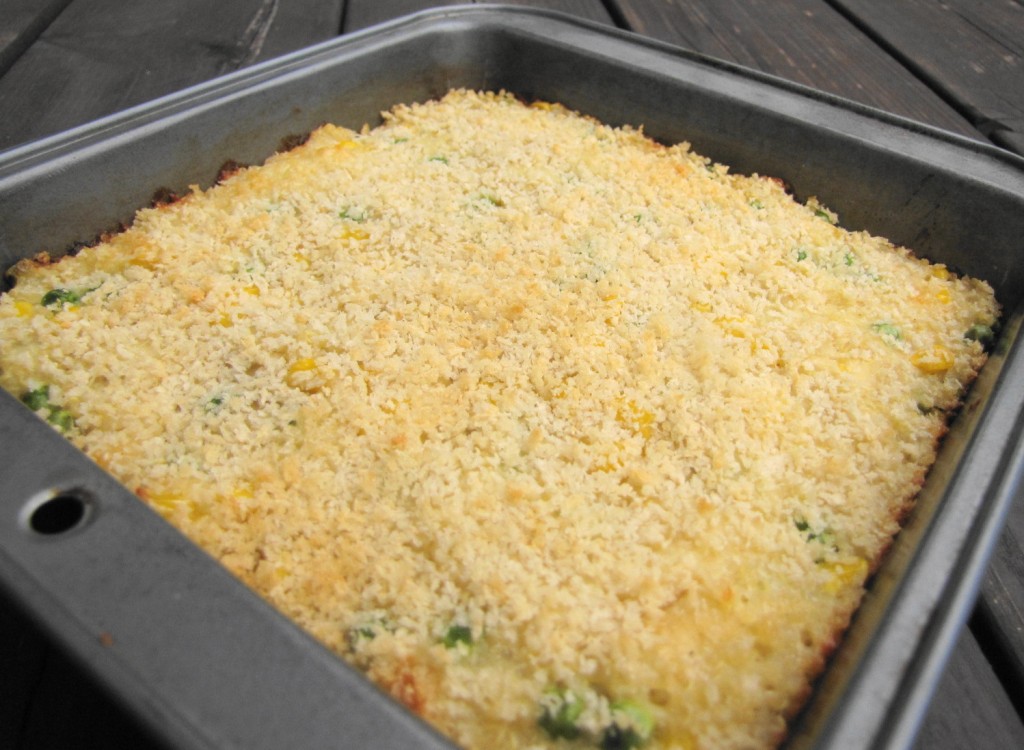 I really enjoyed this unique dish.  It certainly had that unique quinoa flavour, but the cheesiness and crisp breadcrumbs on top were a nice addition.  Hubby enjoyed this one hot out of the oven, but did not appreciate it reheated in his lunch box the next day.  I liked it both the night of and as leftovers, so I would definitely make it again.  I halved the recipe for our small family and it worked out beautifully in and 8 x 8 pan.
Recipes I tried and am removing from my pin board:
Healthy Egg Salad      Pinned here.
I love egg salad.  And I am used to substituting yogurt for a large number of creamy things.  But this recipe just didn't work for me.  Maybe it was the mustard flavour, and maybe just the tangy yogurt itself, but it was missing that traditional creamy egg-salad taste.
Other main meals on my pin board I have tried and loved:
Onion Gratin, peanut noodles, Best Ever Pea Soup, Spinach and Feta Filo Pie
Have you found any great recipes on Pinterest lately?  Feel free to leave links!