I'm continuing to cook my way through The Food Matters Cookbook and discovering lots of great new recipes!  This one caught my eye as I love both potatoes and leeks, but I was a little sceptical of a gratin that had absolutely no milk ingredients, other than the butter in the breadcrumbs (which is easily replaced if you are dairy sensitive.)
The author promised that the dairy would not be missed.  My hubby, who is starting to get used to the fact that I am now trying new recipes almost all the time, will insist that I take pictures before we eat, and am always looking for feedback, immediately said  "I love this cheezy potato stuff!"  Well Mark Bittman, you were right.  The cream was not missed and the veggies so tender that somehow it tasted like there MUST be something else in there with them.  Another to add to our family cookbook.
It's a rarity around here, but this is a recipe I did not alter in any way, and don't plan to.  It's that good.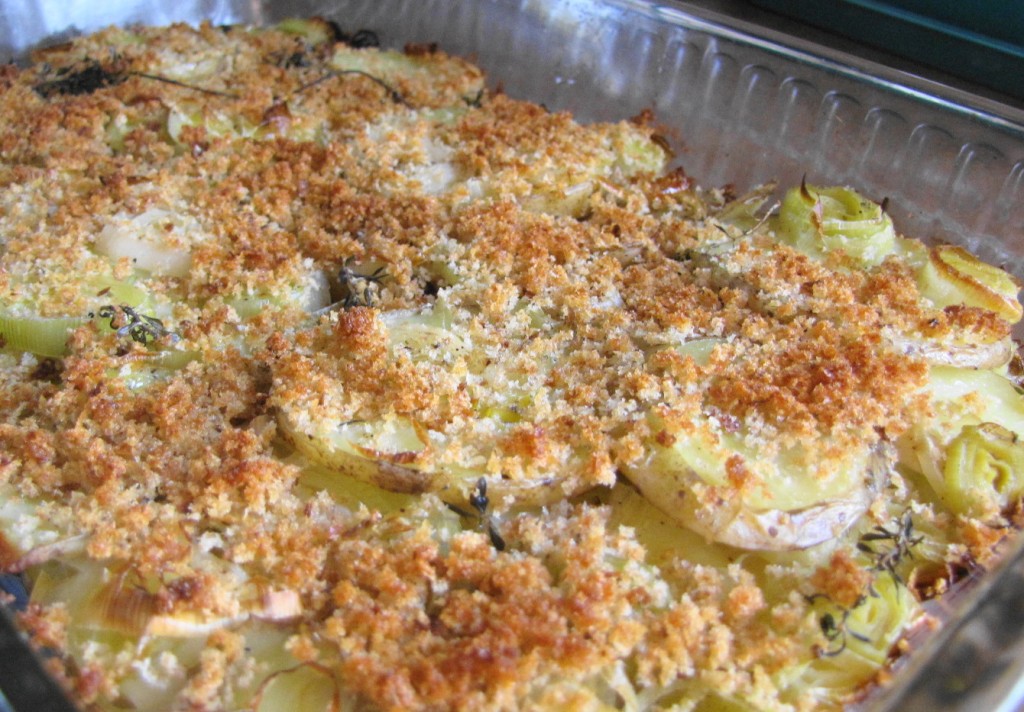 Potato-Leek Gratin with Buttery Bread Crumbs  from The Food Matters Cookbook by Mark Bittman
1 1/2 pounds potatoes, sliced
1 pound leeks, trimmed, rinsed and sliced thin
1/4 cup olive oil
salt and pepper
4 sprigs fresh thyme, or several pinches dried
1 cup fresh bread crumbs (throw a slice or two of bread in a food processor or blender)
2 tbsp butter, melted (substitute with an oil of your choice for a dairy-free version)
Set oven to 375.  Lay potatoes and leeks in a 9 x 13 pan and toss with olive oil, salt, pepper, and thyme.  Cover the dish with foil and bake for 30 – 40 minutes, or until the veggies are very tender.  Top with bread crumbs and put in 425 oven, uncovered, for about 15 – 20 minutes, or until veggies and topping are nice and brown.
Enjoy!
Only one more week (and several recipes to go!) until I post my review.  This was a big book to take on, but not as daunting as it first seemed, as you'll find out on review day.
Have you tried any great new recipes lately?