Those of you who have been around the blog for a while will know how much I love my Friday Night Pizza. The recipe has been a staple in our house for several years, and I almost always have a ball of it in the freezer, ready for a quick dinner any night of the week.  It is a recipe that I rave about and often share with others.
So you can imagine that it pains me a little to say this…..but I found a better recipe.
Last night I made the "No-Work Mostly Whole Wheat Pizza Dough" from The Food Matters Cookbook (although I made mine all whole wheat because that's just who I am.)
The recipe is so easy.  Basically you combine all of the ingredients in the morning, leave them for the day, and you have a beautiful pizza dough by supper time.  And no rolling or stretching either – i just pushed the dough with my fingers until it fit my pizza stone.  It only took about 12 minutes to cook, and was the softest, most beautiful whole wheat pizza crust I have ever had the pleasure of eating.
Last night I topped it with homemade pesto (frozen in the fall after harvesting the basil from the garden), caramelized onions, sun-dried tomatoes, and mozzarella.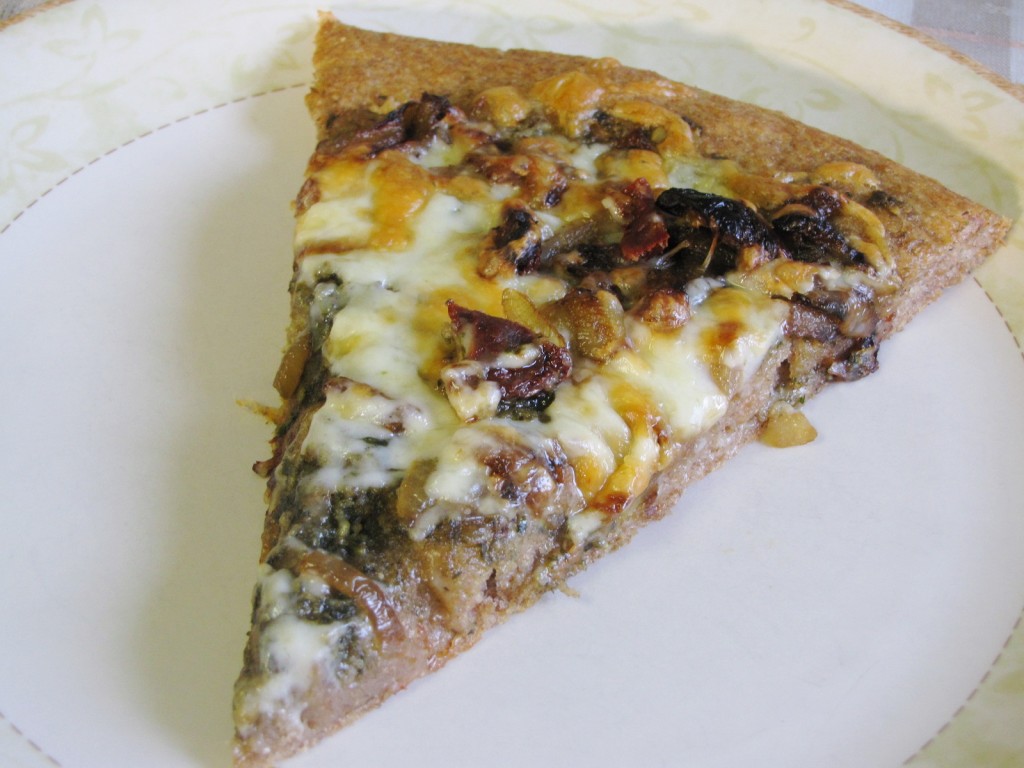 Hubby called it the best pizza I have ever made.  He also declared it restaurant worthy!
As this was the pick for the Food Matters Project this week, you will find the original recipe here, and links to all kinds of variations here.
The only changes I made to the dough was to use whole white flour instead of the all-purpose, and I used traditional yeast, dissolved in a little warm water, instead of the instant.
I'm so sorry Friday Night Pizza, but it looks like there is a new crust in town!