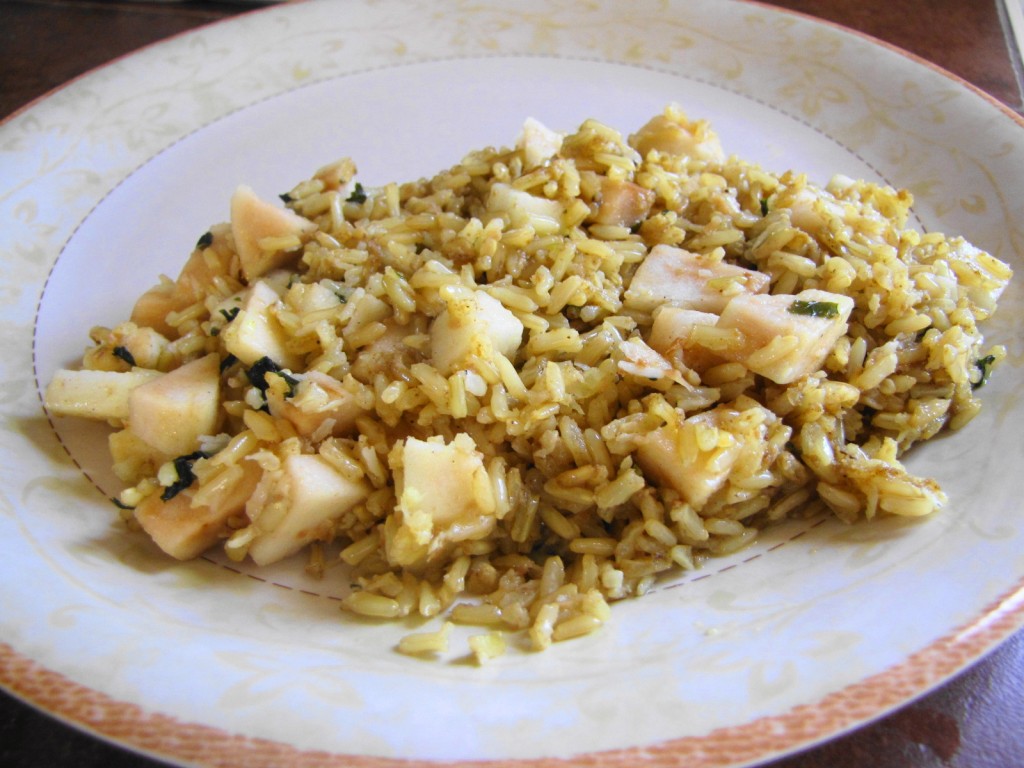 I have been having a great time looking at recipes in The Food Matters Cookbook.  I unfortunately have not been spending as much time cooking as I have reading! (Do you ever have those weeks?)  But I do have one amazingly delicious recipe to share.  This is a baked rice, cooked in coconut milk, seasoned with fragrant spices, and with the addition of juicy pieces of apple.  This is the first time I have ever baked rice, as opposed to cooking it on the stove, and I must admit I was a little sceptical. (Especially since the coconut milk I used was a little thicker than the brand I usually buy…)  But I need not have worried.  The rice was beautifully cooked, fragrant, and delicious.  I know I have found a good rice dish when hubby isn't tempted to smother it in some type of sauce. And this was a winner!  There were even exclamations of "This is amazing!" a the table.   It will definitely be added to the list of recipes I make again and again.  (and I can't wait to try more recipes from the book!)
Baked Curried Rice with Apples and Coconut
From the Food Matters Cookbook by Mark Bittman
2 Tbsp olive oil

1 Tbsp curry powder

1 Tbsp fresh minced ginger

1 cup brown basmati rice

salt and pepper

14 oz can coconut milk

1/4 cup shredded, unsweetened coconut

2 tart apples, peeled and chopped

1/2 cup chopped fresh cilantro (I used what we had frozen from our summer garden)

1/4 cup yogurt, optional (I did not add any to my rice)
You will need an oven proof pot with a lid to make this recipe.  Turn your oven on and set to 350 degrees.  Heat the oil in the pot and stir in the curry and ginger, stirring for a minute or so.  Add in the rice and salt and pepper, and stir that until everything is nice and fragrant and shiny.
Add in 1 3/4 cup coconut milk.  Bring to a boil, cover and put in the oven for 45 minutes.
While the rice is cooking, toast the coconut in a dry skillet until lightly brown.  (Do not walk away while you do this or, like me, you will end up having to do it twice!)

Take your rice out of the oven and stir in  the coconut, apples, and cilantro.  Pop the lid back on and let it sit for about ten minutes.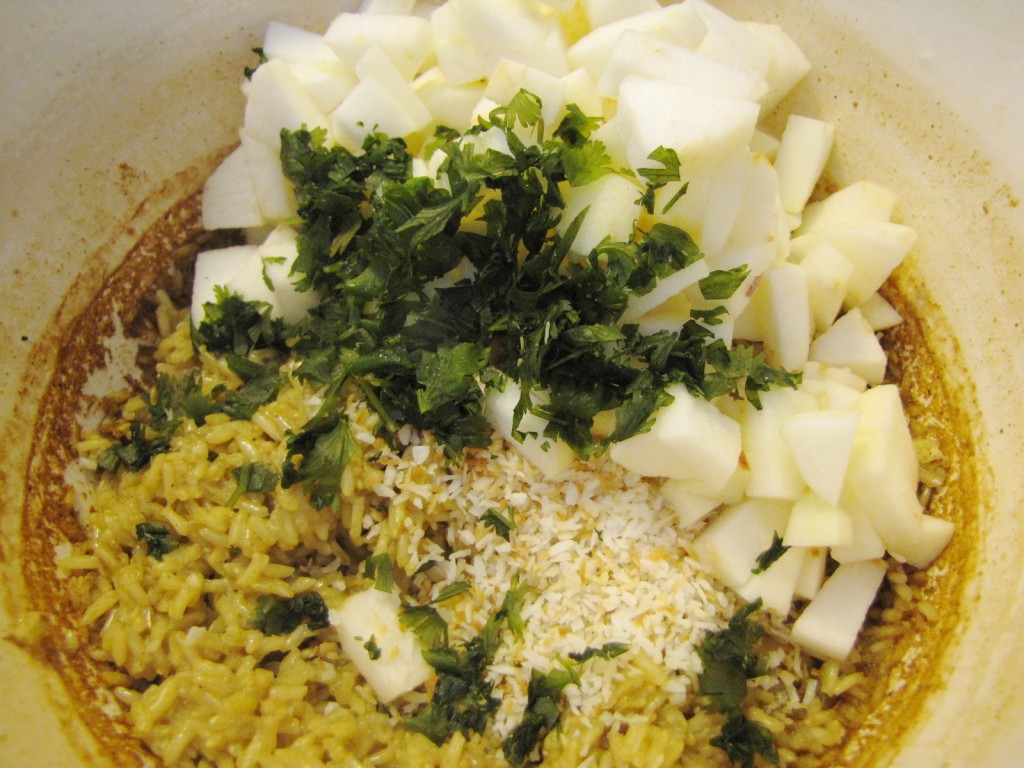 Serve with yogurt, if desired.
Enjoy!