We have a whole shelf in our book-filled house dedicated to gardening.  Last year I posted a list of my favourites, and since then I have a list a mile long of books I have read from the library, and those that I hope to read.
But of all the gardening books I have read so far, I now have a new favourite.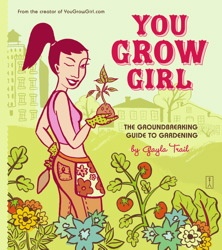 You Grow Girl by Gayla Trail.
This book is different from any gardening book I have read before, and I think that is why I love it so much.
To start with, Gayla keeps things simple.  After reading stacks of gardening books with flawless photos and long lists of plants I can never seem to find, and a confusing amount of information on soil and ph and watering and garden design, it is refreshing to find a book that is, well, fun!  Rather than getting bogged down by how much there is to be done, she makes gardening sound doable, reminds you that it doesn't have to be perfect, and then gives you lots of great ideas for making your garden a success.
And it's not that the book isn't meaty, because it is.  There is a wealth of information in there on starting a successful garden, no matter how small the space you have to grow (and even what to do if you are growing on a public space!)   But there are also really fun crafty projects like making your own leaf-shaped concrete stepping stones (I so want to do this!), sewing yourself a garden apron, creating moss-covered pots and stones, making tea with your own home-grown herbs, and on and on.  All told in a relaxed, you-can-do-this kind of way.
And as much as I love reading about gardening, I sometimes find the process a little stressful as the list of things I have to be doing and I should be doing and I need to be planting gets longer and longer.  You Grow Girl comes without the panic.  Instead there is the kind of enthusiasm you get when talking to your best friend about the thing you are passionate about.  I finished reading the book inspired and excited about the gardening season ahead.  (and I have yet another book  I am going to keep out of the library as long as I can….) 🙂  I am also adding "grow my own loofah sponge" to my list of gardening things to do.  I had no idea this was something you could grow in your garden – how cool is that?!
Gayla also has an amazing gardening blog which I read regularly, and two other gardening books which I can't wait to check out.
Have you read any good books lately?