I am so excited to be writing my very first Creative Kids post!  I actually had an activity I did in my classroom last week that I wanted to write about, but had such a fun and amazing afternoon with my students yesterday that I can't resist writing about that instead!
On Monday afternoons I do something in my classroom I call "Story Adventures."  Usually this begins with the reading of a story, and then we get involved in all sorts of adventures inspired by what we just read.
Yesterday I read them the story of Jack and the Beanstalk.  Not just the ordinary tale, but the one found in this book: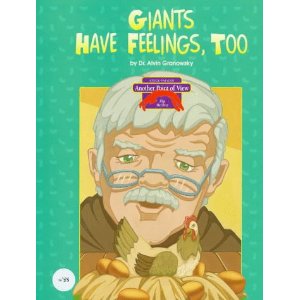 One half of the book is the tale of Jack that we are all familiar with.  After reading the story we had a short discussion about Jack, and his actions, and how we felt about the giants.
I then read them the other half of the story; which is the same story, but told from the point of view of the giant's wife.  In this version the giants are all very innocent and Jack is made out to be one very naughty (and greedy) boy indeed!
We then talked about whether their feelings about Jack or the giant had changed.
And then the fun began.  What I often do with a story like this is tell my students we are going to put on a play, and have them create all of the props/costumes necessary, and then spend some time acting it out, allowing different students time to try out different roles.
But I took a risk with this young group and decided to try something I have never considered doing with a class so young.  We decided to put Jack on trial.  (It was smooth sailing once I explained what a trial was!) 🙂
Students who sided with the giant sat on one side of our meeting mat, students who sided with Jack on the other, and one undecided student played the role of Jack.  I sat as judge so as to have some control over the proceedings.  Then we proceeded to debate.  Giants had their say, humans had their say, and Jack had a chance to defend himself.  And after a few minutes, my classroom was no longer full of 5 and 6-year-old boys and girls, but giants, offended at having been robbed, and humans, explaining their neediness, and for goodness sake Jack might have asked permission to take some of the giants things but the giants were too intent on wanting to eat him to notice!  Without any prompting or prodding from me (I only called for order when too many people were talking at once), the two parties came to the conclusion that they would share the stolen goods, and the giants would agree not to threaten to eat any more humans.  Without any formal teaching at all, my K/1 students have learned to debate, to persuade, to compromise, and to keep order in a large group discussion.  And they worked the judge right out of her job!  When I brought the drama to a close, the only thing I heard was : "Can we do it again?"
Because they enjoyed all of this so much, I decided to read them yet another version of the story today.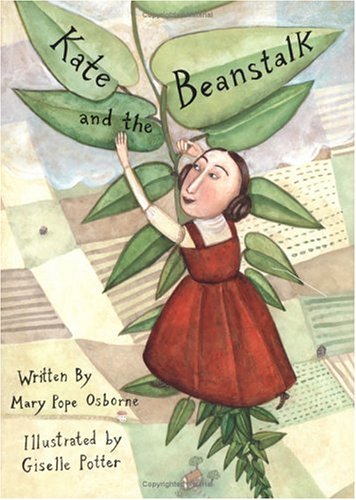 In this version the hero is a brave girl named Kate, who steals not for her own benefit, but to return the giants items to their rightful owners.  And when the story was finished, my students immediately started working out their own version of the drama, assigning roles and deciding who sided with who.   (Who needs the teacher anyway?) 🙂
If the interest lasts another day or two, here are a few other things we might do together:
build our own giant beanstalk, – we will have to decide how tall it should be (hello math!), and then the challenge will be deciding how to create a beanstalk out of the materials we have on hand – or we might build other giant things too – how big would a giant's shirt be?  Or the food on his table?  (If I had a big enough oven, I would have loved to have created some giant food to share!)
plant bean seeds and watch them grow
go on an imaginary adventure where each child can climb the beanstalk and enter into their own magical worlds (and then write about it!)
create and tell our own story, replacing the giant beanstalk with another giant plant, and the giant's castle with another magical place (Perhaps entitled….Our Class and the Humongous Apple Tree, or something of that nature)
Fee Fi Fo Fum, I see some kids having lots of fun! 🙂
What would you do with a giant beanstalk?